A-PDF Free Wordpress Slider Plugin Maker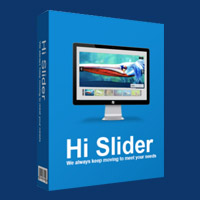 The easiest, most powerful slider maker for create Responsive Video & Image sliders with no coding.
Free WordPress Slider Plugin Maker is the best plugin for creating wordpress slider from Hi Slider.com. It enables you to create stunning HTML5 or jQuery sliders for your wordPress site without programming skills. It supports add different type of images(*.jpg, *.jpeg,*.png, *.gjf, *.bmp), videos (YouTube, Vimeo and local video file) or even embeds links, JavaScript into your silder.
See Slider effect as Below:
Why Free WordPress Slider Plugin Maker
Free WordPress Slider Plugin Maker is a responsive jQuery image slider with amazing slider effects (3DHorizontal, 3DVertial, Base, Blind, Block, Blur, Fade, Rotate, Shuffle, Slice, Wipe) and tons of Ready-for-use templates & Skins. It would have to be the easiest to setup which produces an amazing result if you want to make a wordpress slider.
Key Features
Easy-to-use Wordpress Maker
Make attractive Wordpresee slider plugin within 3 steps;
Clean Interface Layout of Free WordPress Slider Plugin Maker.
Powerful Import Engine
Various Image Format support (*.jpg, *.jpeg,
*.png, *.gif, *.bmp);
More than 10 different kinds of transition effects;
Support to insert YouTube and Vimeo Video;
Enable Insert Hyperlinks, Call Javascript function,
and Pop up with light box style;
Add Title and Description for images or Video;
Desing slider on import interface.
Full Customization Features
Ready-for-use slideshow templates & skins;
Customize the width and height
of HTML5 slidershow;
Support to preview photo slideshow;
Change background color for HTML Slideshow
Make HTML Photo Sideshow Autoplay;
Design Thumbnial of slider.

Flexible Output Format:
Publish as HTML, WordPress plug-in, Joomla
module and Drupal module.
Seamless plugin with WordPress Theme
Support all major browsers and devices:
Google Chrome, Safari, Firefox and IE7+;
Watch your HTML5 slideshow with Mobile devices,
like iPad, iPhone, and Android devices.
Free download trial version
See also
Multiple content Import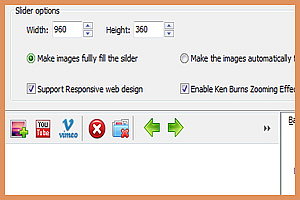 (Click to See Big Photo)
Fully Customize Editor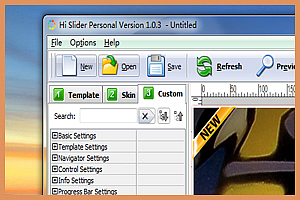 (
Click to See Big Photo
)
Flexbile Publish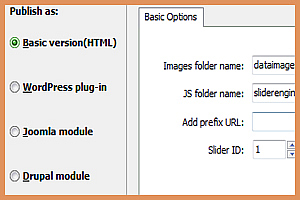 (Click to See Big Photo)