A-PDF to Flipbook for iPad (Flip PDF for iPad)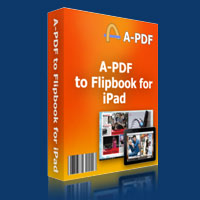 A-PDF to Flipbook for iPad is a page flip animation book maker. This software can help you to publish flash book with turning page effect from ordinary PDF files. And you and your readers can view the output pageflip PDF book on iPad.
And this page turn software provides you with a series of configurable settings to customize book style based on selected template. Besides, you can share the flip book with others easily.

only $79
Get a free license >>
Free download trial version
See examples created by
A-PDF to Flipbook for iPad
Main Features
Import Settings
1. Page range: You can import all pages or just import custom range pages.
2. Page quality selection: There are 5 quality and size for you to output flipbook. High values produce better page quality but require more disk space and more time to download.
3. Import bookmark: Import table of contents of the original PDF files.
4. Import links: Generate original page links, web links and e-mail links to the flip book.
5. Enable search: Search content within the flip book easily.
Customizable Features
1. Brand the flip animation book with corporate logo.
2. Define book title for the page flip book.
3. Enable or disable buttons: share, thumbnail, zoom and auto flip.
4. Show share button so that readers can share your pageflip PDF book with ease.
5. Show thumbnail button to let readers navigate the book more conveniently.
6. Enable zoom function to help readers view flip book with clear quality vision.
7. Use auto flip instead of flipping page manually.
8. Select background color and page background color.
9. Choose background image file as the flipbook background.
10. Choose hard cover for the page turning book.
11. Set book margins for the flipping book.
12. Open window in blank or self window.
13. Add Google Analytics ID to collect statistics of the flip book.
Multiple Templates
A-PDF to Flipbook for iPad provides many different templates for you to choose. Each template has its own color (skin) and design, choose one that fits your book style.
Two Selectable Output Forms
A-PDF to Flipbook for iPad allows you to publish iPad-supported flip book in two formats: ZIP and HTML.
Package in ZIP file enables you to send it to others with ease.

Publish HTML flip book, your readers can access to it with iPad via Safari Browser.
iPad Interface Design
This flipbook maker allows you to preview the turning page effect all the time so that you can adjust your settings instantly. Besides, the iPad interface design can show you how your creation will perform on iPad.
Navigate Through the Flipbook
Flip page:

Drag the page corner, click on page shadow, key in page number and click on page control buttons.

Thumbnail index:

When importing files, this flip page software will automatically create a thumbnail list of the whole file.

Table of contents:

While importing files, you can enable "Import bookmark" to retain table of contents of original PDF. Besides, you can add and define a table of contents for the flip book manually.
Easy Share Tools
A-PDF to Flipbook for iPad enables you to share your page flipping book easily: Send it to others via e-mail or share via social networks such as Twitter, Facebook, and MySpace. These share tools can help spread your flipbook rapidly and increase visits.
Google Analytics Integration
A-PDF to Flipbook for iPad integrates Google Analytics to help you collect statistics of your flip animation book. You will know how your publication performs, how many visits, how long readers stay on each page, which page gets most visits and so on. In this way, you can adapt your strategy to improve the book performance.
Favorable and Considerate Services
One-time fee, no hidden fee or subscription fee.
Free upgrade for the later versions.
30 days full refund guarantee.
See also
Current version 1.3.4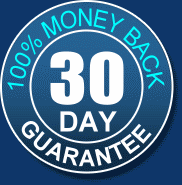 Requirement: Windows
2000/XP/Vista/7