PDF Password Protect (A-PDF Password Security) is to help you or businesses protect confidential or sensitive information even when your PDF files are obtained by wrong persons. With this PDF security software, you can secure your PDF documents very easily and protect your intellectual properties and info effectively.
Why PDF Comment & Markup
Set user password to prevent unauthorized access.
Set owner password to prevent others from modifying or editing PDF.
Set permissions to restrict copying or printing PDF.
Support multiple standard security levels.
Add expiry date to invalidate the password protected PDF.
Support using Hot Directories mode to monitor the securing process.
Support using Batch Processing mode to secure multiple PDF files at the same time.
Support Multiple Security Levels
PDF Password Protect supports multiple standard security levels to cater to your different needs and purposes. You can add password using below levels:
40-bit REC – Adobe Acrobat 3.0 or above
128-bit RC4 – Adobe Acrobat 5.0 or above
128-bit AES – Adobe Acrobat 7.0 or above
256-bit AES – Adobe Acrobat 9.0 or above
Multiple Markups
PDF Comment & Markup offers you multiple pre-designed markups for your quick applying to your PDF files. And you can select more than one markup to the PDF at the same time.
Set Document Properties
In addition to set password to secure your PDF files, you are also able to add properties to the PDF files to declare your ownership of the PDFs. You can set Title, Subject, Author and Keywords.
Save Your Time
PDF Password Protect also offers an efficient way for you to batch secure multiple PDF documents, which can save you a lot of time. You don't need to repeat the work one by one.
Save Your Money
PDF Password Protect is a standalone utility which can run independently on Windows computers. You don't need to purchase Adobe Acrobat or any other password security software that could cost hundreds of dollars, while PDF Password Protect will only cost you USD $27.
See also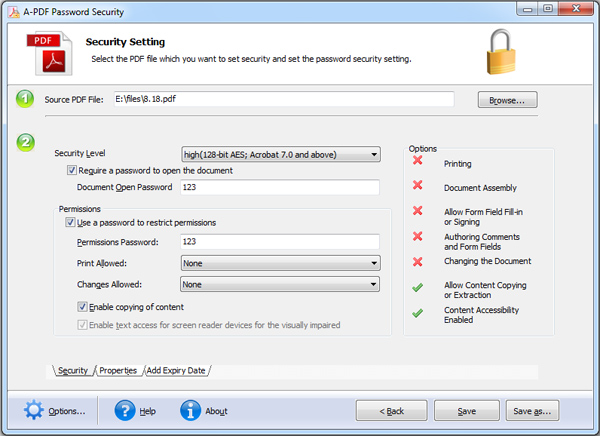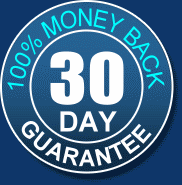 Requirement:
Windows 2000/XP/Vista/7