A-PDF PPT to Flash 3D Wall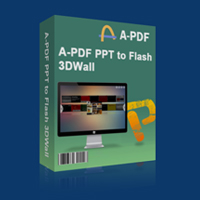 PPT to Flash 3D Wall is software designed to build interactive 3D wall slideshow from MS PowerPoint slides, make presentation in meeting, on website, blog pages more attractive and different than standard ones. Readers can slide, drag, zoom, social share the slides on 3D wall, and enjoy the enticing reading experience on the unique and flowing Flash wall.
While using the PPT to Flash 3D Wall, you can choose templates for your wall show, and you can also design template by setting unique background, book info, then publish animated 3D wall slideshow in different modes, HTML, ZIP or EXE. Your created Flash slideshows are royalty-free.
How A-PDF PPT to Flash 3D Wall Works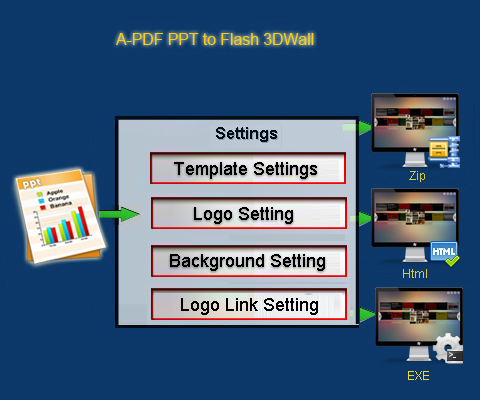 Why A-PDF PPT to Flash 3D Wall
Program Key Features
Convert PowerPoint Presentations to 3D wall Flash slideshow, all PowerPoint formats are supported, including ppt, pptx, pptm, ppsx, ppsm, pps, etc..
Output 3D wall Flash in 3 different formats: HTML, EXE and Zip.
Provide different pre-designed templates for you to decorate your 3D wall presentation directly.
Offer customization settings for you to create unique 3D Flash slideshow, such as template background setting, logo setting, logo link setting and so on.
While viewing 3D Wall Flash, viewers can:
Click on pages to zoom in and view details, or click "Full Screen" icon to view the Flash presenation in Full Screen.
Easy click on left/ right buttons or drag on background to slide the Flash presentation on 3D wall.
Slide the 3D wall with dragging wall background, stop the animation by clicking anywhere of the background.
Click other image thumbnail on the 3D wall to switch images quickly.
Share your published Flash presentation through Facebook, iGoogle, MySpace, Netvibes and more social sites.
Click on your logo link to go to your defined web page.
Refresh 3D Flash Wall to make the show back to the beginning situation.
Save Money
The standalone software A-PDF PPT to Flash 3D Wall costs $49 only.
Easy-to-use
The A-PDF PPT to Flash 3D Wall is very easy to convert PPT slides to 3D wall Flash, just select PPT you want to convert on your system!
No Flash or programming skill required!
See also
Current version 1.0.4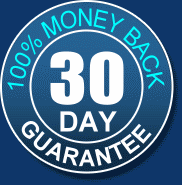 Requirement:
- Windows NT/2000/XP/Vista/7