A-PDF Filler - The easiest and simplest way to fill any PDF file.
Question
Recently my boss asked me to fill some content to PDF files. But it is complex for me to do. I need to convert them into Word and then add the text or image and lastly convert them to PDF again .It costs me much time. So I need to find the easiest and simplest way to finish my work. Can you give me some suggestions?
Solution
Ok, you can try A-PDF Filler. A-PDF Filler would be your great helper in that it is a simple and powerful program designed to add text ,images and other symbols to PDF files. It provides you a special filler editor to view the process of filling. You just need to input the text and image. With A-PDF Filler, you can finish your work in relax.
At first, you need to add your PDF files. Click the button "Add PDF file" or click the top left corner to add your PDF.

Then you can customize your PDF by fill the form manually. You can add text, image, rectangle, line, and arrow and so on. Also you can choose the text font; text size and text align etc. So you should not worry about the process. It is easy to control just as I show below.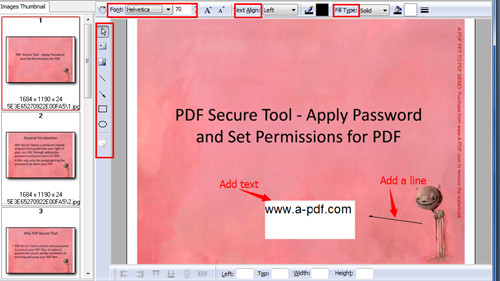 Lastly, save the PDF. You just need a click.

Related products
We always like improving our products based on your suggestions. Please send your feedback (or ask questions) to us in the contact page.