A-PDF Scan and Split - Scan paper and split it to multi-pdfs based on blank page
Question
I want to scan the print documents and split the scanned file into several pieces, do you have any software that can help me with this?
Solution
Yes, A-PDF Scan and Split can help you. This software allows you to scan a batch of paper files and then split the scanned file into separate PDF documents according to different split methods: blank page or barcode page. Follow the below steps on how to scan and split a PDF to multiple files using Blank Page split method.
Step 1: Scan & Split mode
Start A-PDF Scan and Split and in the first screen, select "Scan and Split", click "Next";
Step 2: Select Split Method
In the next screen, you will see 3 Split Methods: Printed Barcode as Split Tag, Blank Page as Split Tag and Split every N Pages. Here I will take Blank Page as an example, click "Next";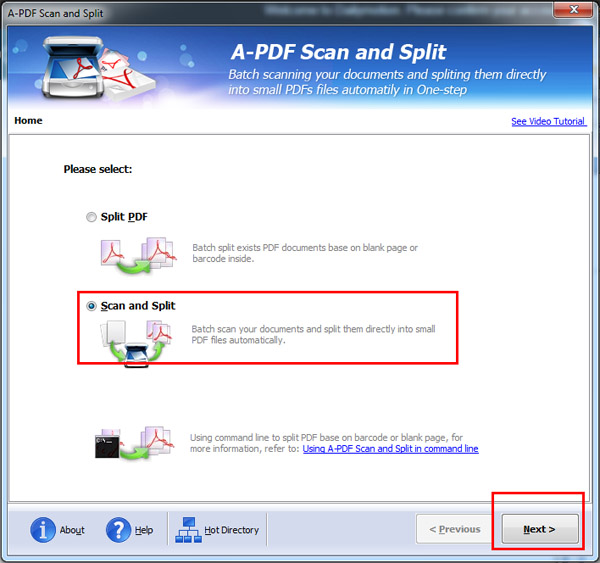 Step 3: Recognize Blank Page
In the Scan and Split Settings interface, click the "Recognize Blank Page" button to make sure the inserted blank pages are recognizable; if it can't be recognized, follow the 3-step instruction to adjust settings;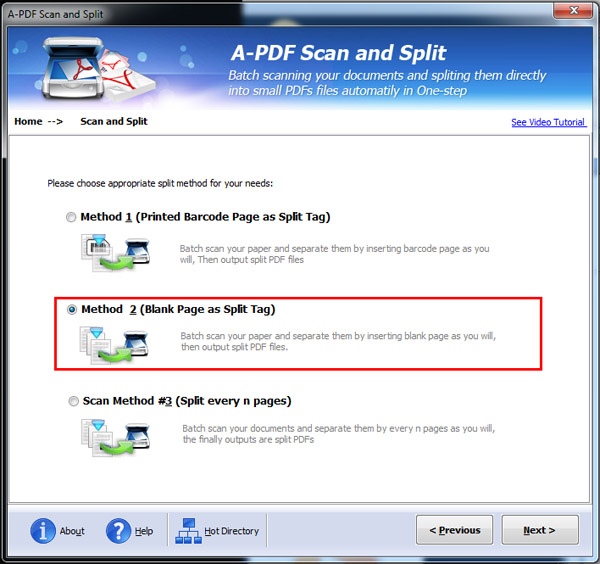 You can set DPI, color or parameters for Threshold and black/white; then click Save button to save the settings.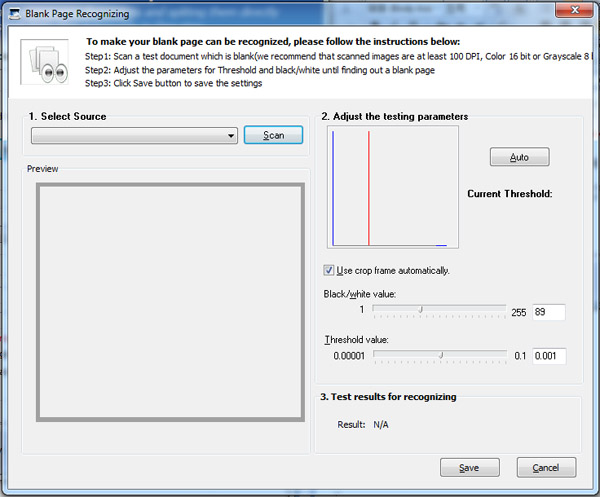 Step 4: Source Selecting
Select a scanner and set the output quality for scanned files.
Step 5: Define Output Settings
You can define the output path and choose a name pattern for the split PDF files. Besides, you can define options for the separator page.

Step 6: Split Scanned Files
Click the "Start" button to begin splitting the scanned files.
Related products
A-PDF Split - Split any Acrobat PDF file into separate pdf files base on page, bookmark and more
A-PDF Scan Paper - Scan and organize paper in PDF format, use thumbnails and metadata to filter, secure, send scanned documents.
We always like improving our products based on your suggestions. Please send your feedback (or ask questions) to us in the contact page.