Best way to create a web Flash&html5 Flip Book
Question
I want to publish my flash flipbook online so that my readers can access it with ease. Besides, I also want the flipbook to run on mobile devices such as iPad and Android. Does your software support HTML5?
Solution
If you want to create flipbook that can run on both PCs and mobile devices, you can try our A-PDF Flip Book Maker. This software will allow you to create web flash & html5 flip books at the same time: flash for PC and html5 for mobile.
Step 1: Create new book from PDF
Launch A-PDF Flip Book Maker and create a new project, then you can import a PDF file. You can choose page range to import, select page quality and size, add custom watermark and define advanced settings.
Step 2: DIY flipbook with custom settings
After you import the PDF, you can design the flipbook in your own style: choose a pre-designed template and a theme, use animate scene, customize table of contents, add plug-in, add logo, define toolbar with feature buttons and color, etc.
Step 3: Publish web flash&html5 flipbook
Click the "Publish" button, in the Output dialog, select HTML format and enable "Also Make Mobile Version" option, define other settings and publish the flipbook.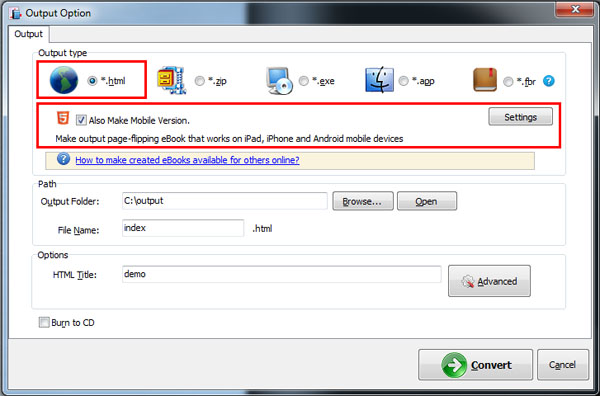 Related products
We always like improving our products based on your suggestions. Please send your feedback (or ask questions) to us in the contact page.