Can I add annotations into digital ebook with FlipBook Maker?
Question
I would like to make a digital ebook with Annotation function, so that readers can take a note for all flipbook pages while reading. This function is very important to me. Can I use FlipBook Maker to add annotations?
Solution
Yes, it can. A-PDF FlipBook Maker provides multiple toolbar buttons for you to display on flipbook, including Annotation, print, download, share etc. You can enable show Annotation for all of your readers easy to take note, highlight pages with brush and draw rectangle or ellipse on anywhere of your book pages.

This tutorial is guide for how to add Annotations into digital ebook with A-PDF FlipBook Maker. Launch A-PDF Flip Book Maker (free download here)
Run this program to import your PDF format file. (If donot install A-PDF FlipBook Maker, please download and install it to your machine)
Set Annotation
Choose one of the templates on the left-hand design setting panel; Click "Tool Bar Settings->Buttons Bar->Add Annotations" to select "Enable" option; Click "Apply Change" to make it work.
Annotation usage
Find the Annotation button on your flipbook toolbar; Click it to take a note easily.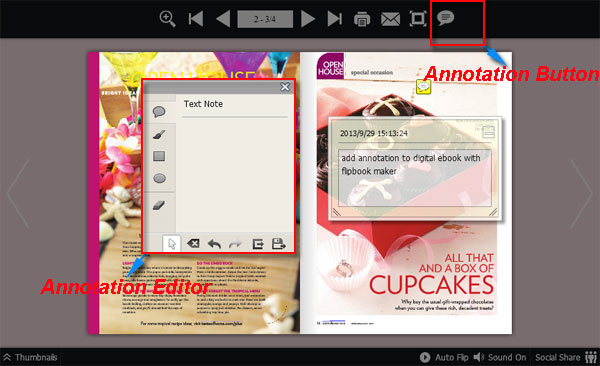 Related products
We always like improving our products based on your suggestions. Please send your feedback (or ask questions) to us in the contact page.