Can I add multiple types of watermarks to PDF by using A-PDF Watermark?
Question
Thanks to purchase A-PDF Watermark, I can easily add watermark to the confidential documents, no matter text/logo/shape and datetime. Now I would like to define the watermark style, display company logo on the left side and website URL in middle. Can I?
Solution
Actually, you can add multiple types of watermarks to PDF by using A-PDF Watermark. Therefore, if you want to set company logo and website URL as PDF watermark, you can design them and batch adds them to PDF. Step-by-step-tutorial tells you how to batch add text and image watermark to PDF by using A-PDF Watermark.
Step1: Add all PDF files or folder that needs to add copyright;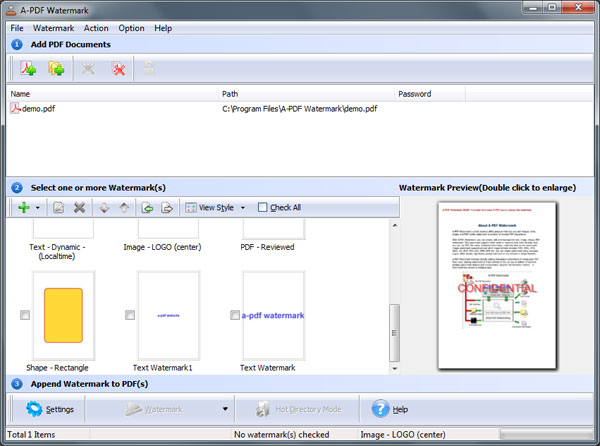 Step2: Create new text watermark, name it as your website URL such as: www.a-pdf.com; Create image watermark, open your logo to define the watermark;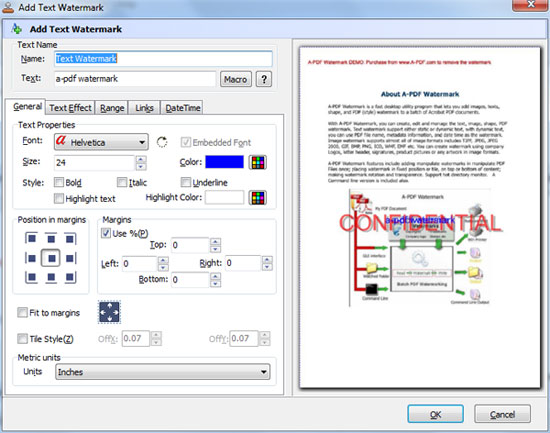 Step3: After settings, those new watermarks will be shown on list. You can both check those watermarks and then start to add to those imported PDF.

Related products
A-PDF Number - Add/create page number in PDF pages
A-PDF Label - Batch add formatted dynamic Label fields (mailing label) such as Name, Address, City to custom PDF templates (such as in form letters, on envelopes, business card, name badge and so on) for printing, The Label fields lists information come from a spreadsheet in MS Excel file
A-PDF Number Pro - Batch add Page Number to Acrobat PDF documents, including prefix and suffix.
We always like improving our products based on your suggestions. Please send your feedback (or ask questions) to us in the contact page.