Can I change the page size while converting PPT to PDF with A-PDF PPT to PDF?
Question
As you know, PPT is a common way for us to make presentation in business. At the same time, with the development of technology, there are different versions of Microsoft PowerPoint. Therefore, I experienced an embarrassing situation. My PPT can't on show in customers' computer. So I want to ask whether I can change the page size to better performance if I use A-PDF PPT to PDF to convert PPT to PDF.
Solution
I totally agree with you. It is convenient to present your ideas with PDF which is acceptable to all people.A-PDF PPT to PDF is a professional and simple application which allows you to batch converting PPT to PDF. It provides you the most satisfactory service. There is no doubt that you can customize your output PDF files, including changing the page size. You can also add security, add watermark and add page number. All in all, you are the designer of your output PPT.
But firstly, you must have your own PPT. Before adding PPT, you can select a mode: Batch Convert Mode/Hot Directories Mode/Command Line Mode;

Then click the "setting" button and select your favorite page size;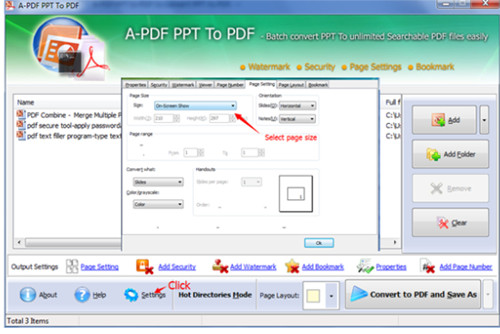 Lastly, click the button "Convert to PDF and Save As" In a few minutes, PDF files are generated.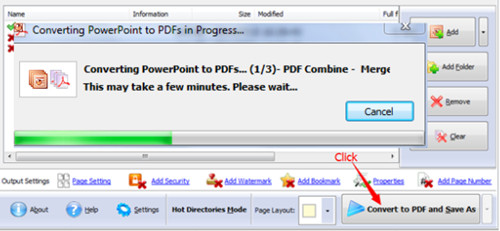 Related products
We always like improving our products based on your suggestions. Please send your feedback (or ask questions) to us in the contact page.