Can I scan paper document and extract text from it with A-PDF OCR?
Question
After scanning the paper document into digital, I want to convert the scanned file into editable file so I can change and modify the text. Does you're A-PDF OCR allow me to extract text from the scanned file? And how it works?
Solution
Yes, A-PDF OCR can accurately analyze and recognize characters of scanned documents and PDFs with OCR technology. After you scan paper documents into digital versions, you can easily extract all text content from these scanned documents with A-PDF OCR. And you are able to edit the text-based content with a lot of edit tools as you do in Office Word, but actually you don't need to open Office Word. Within a minute, you can extract text from scanned files or PDF files. Here is how it works:
Step 1: Scan Paper or Open PDF
Run A-PDF OCR and get your scanner prepared, then you can click "Scan" to scan your paper document to digital, or click "Open PDF" to open an existing PDF file directly.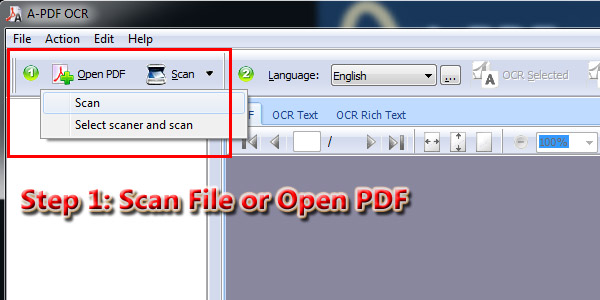 Step 2: OCR & Edit Extracted Text
1) Select language: A-PDF OCR supports multiple languages (English, French, German, Italian, Dutch, Spanish, Portuguese and Basque). After you scanned the paper document, you can select the right one to match your scanned file. You can download these files by click "More…" in the drop-down list.
2) OCR scanned file: You can select pages or all pages to begin OCR. You can start by clicking "OCR Selected" or "OCR all Pages".

3) Edit extracted text: Soon you will get text-extracted pages. And you can click "OCR Rich Text" tab to edit the extracted text within the editor.
Step 3: Save ORCed Text
Click "OCR and Save" to save the text as TXT, PDF or ZIP. And you can select page range to save: all pages, page range, odd pages or even pages.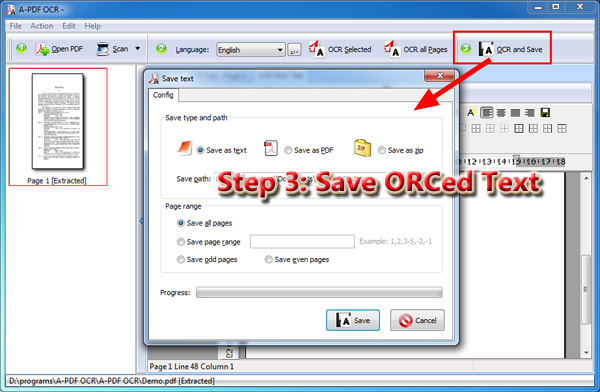 Related products
We always like improving our products based on your suggestions. Please send your feedback (or ask questions) to us in the contact page.