Can I select different render engines to import PDF file to A-PDF to Flash?
Question
Sometimes I think that I should make my flipbook more splendid and wonderful than others. Or it should be just more legible. I know that there are different render engines can help me achieve this effect. But can I select different render engines to import PDF file to A-PDF to Flash?
Solution
Of course, you can do it. A-PDF to Flash is very humanized to concern every need of you. There are three render engine provided: SWF, GPL Ghostscripts and Inner Library. SWF enriches you much legible characters and smaller output size. And GPL Ghostscripts ensures you higher color transfer quality while Inner Library equipped you faster convert speeds. No matter which one you select, it is easy to process.
Firstly, Click the button "Create New" and choose your source PDF file.

Then click "Advanced Settings" and Render Engine is shown on your left side.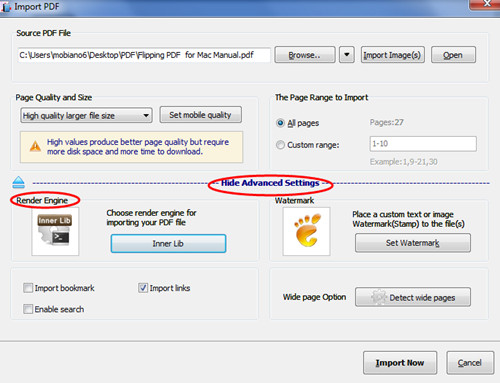 After that, click "Inner Lib" and a small window is popped up. You can select your favorite render engine.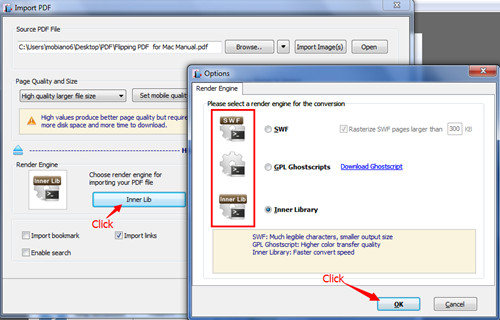 When finishing all above, click "Import Now" and enter the designing interface. You can design your template, language and scenes and so on.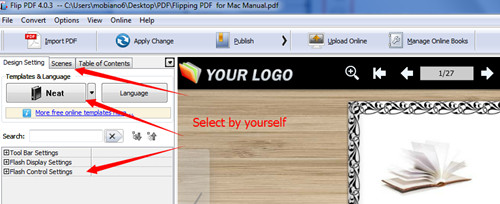 At last, "Apply Change" and "Publish".
Related products
A-PDF Watermark - Add image and text watermarks to a batch of Acrobat PDF documents
A-PDF Number - Add/create page number in PDF pages
A-PDF Label - Batch add formatted dynamic Label fields (mailing label) such as Name, Address, City to custom PDF templates (such as in form letters, on envelopes, business card, name badge and so on) for printing, The Label fields lists information come from a spreadsheet in MS Excel file
We always like improving our products based on your suggestions. Please send your feedback (or ask questions) to us in the contact page.