Can I set a hyperlink for the watermark by using A-PDF Watermark?
Question
I used your A-PDF Watermark to add text watermarks and image watermarks to my PDF files, I wonder if this software provides me with an option to add a hyperlink for the watermark that link to my website. If possible, can you tell me how to do this?
Solution
Yes, you can use A-PDF Watermark to set a hyperlink for the watermark while adding watermark to the PDF file. In addition to enabling you to add a hyperlink to link to your website, this PDF watermark stamper also lets you to add page link for the watermark. Below I will show you how to set a hyperlink for the watermark.
Step 1: Add PDF Documents
After you start A-PDF Watermark, click "Add PDF document" or "Add directories to list" to add PDF files.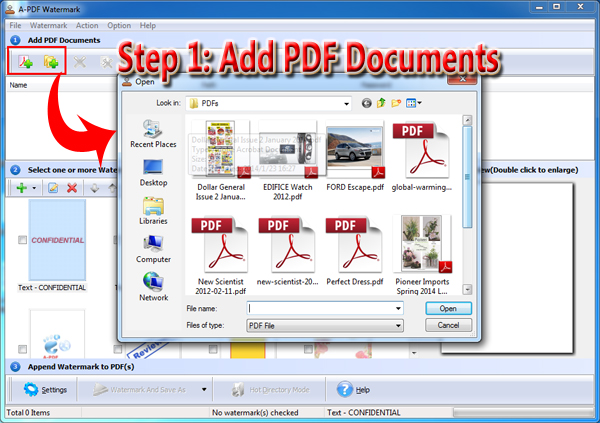 Step 2: Add Watermark(s)
In the watermark list, select one or more watermarks. And you can add new watermarks by clicking the "Cross" button and then select a type.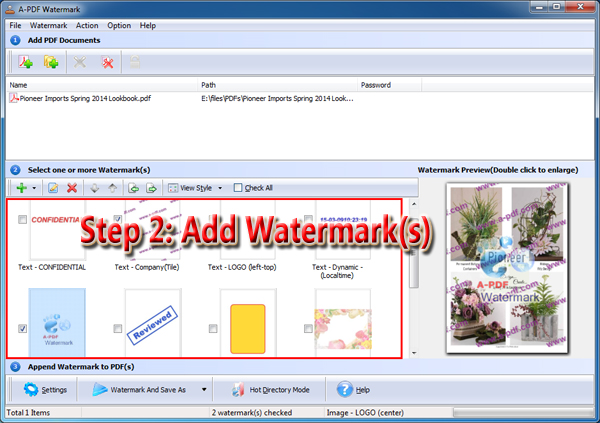 Step 3: Add Hyperlink
Double click the selected watermark and you will see the pop-up Edit Watermark window. Click the "Links" tab and check "Apply Link", then you can input a web link URL. Click "OK" to save the settings.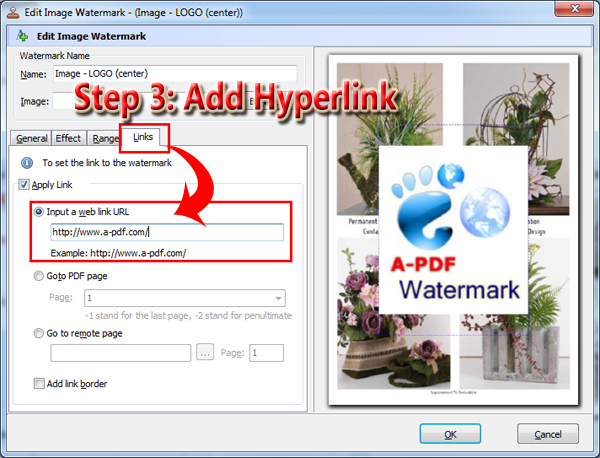 Step 4: Save Watermarked PDF
Click the inverted triangle and select a type to save the watermarked PDF files.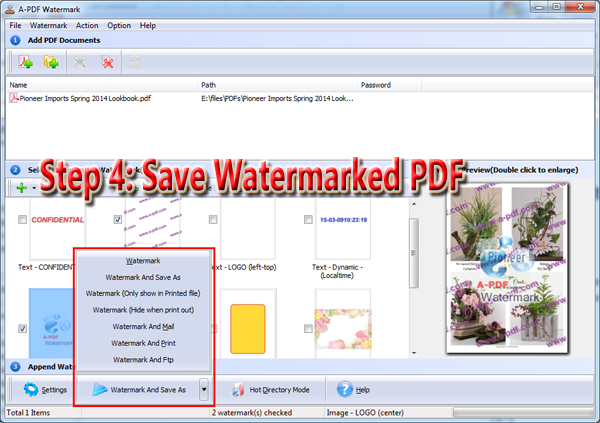 Related products
A-PDF Number - Add/create page number in PDF pages
A-PDF Label - Batch add formatted dynamic Label fields (mailing label) such as Name, Address, City to custom PDF templates (such as in form letters, on envelopes, business card, name badge and so on) for printing, The Label fields lists information come from a spreadsheet in MS Excel file
A-PDF Number Pro - Batch add Page Number to Acrobat PDF documents, including prefix and suffix.
We always like improving our products based on your suggestions. Please send your feedback (or ask questions) to us in the contact page.