Can I split PDF file based upon the barcode inside the PDF file by using A-PDF Scan and Split?
Question
My PDF files are in a mess. There are so many barcodes inside the PDF file. In the pass, they were set to separate the different products. But now I want to split them into several PDFs. Can I split them based on the barcode inside the PDF file by using A-PDF Scan and Split?
Solution
Of course you can. A-PDF Scan and Split is a useful program that makes it possible for you to separate large PDF files into multiple PDF files based on the blank pages or barcode. It can help you save your time in the reason that A-PDF Scan and Split allows you to batch scan large volumes. Besides, there are various name patterns for the output PDF files. It is easy to use if you make your barcode page recognized. Then you just need to add the PDF files and select the output settings, other things will be done by A-PDF Scan and Split. In the following, I will show you the specific steps.
Step 1: Click the "setting" button and ensure that the barcode page can be recognized;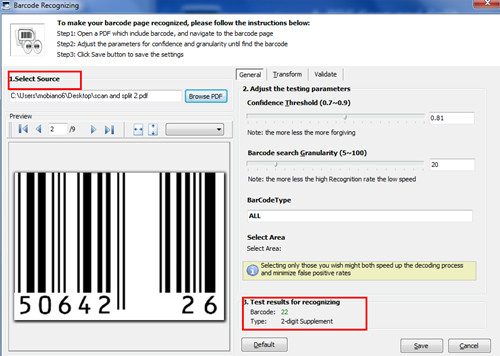 Step 2: add PDF;

Step 3: Select the output settings and then click the button "Start".

Related products
We always like improving our products based on your suggestions. Please send your feedback (or ask questions) to us in the contact page.