How can I add a macro tag to recipient by using A-PDF Automail?
Question
I learned that your email sender A-PDF Automail can help users extract email addresses from PDF files and then automatically send these PDF files to the recipients via extracted emails. Could you show me how to do this?
Solution
Yes, A-PDF Automail is a powerful batch email sender that lets you to automatically email PDF attachments to extracted email addresses by adding macro tags to the recipients. And with this auto email creator, you can block email addresses even though they exist in the attached PDF files. Besides, you can also set password security to protect the attached PDFs. And below I will show you how to add a macro tag to recipient:/p>
Step 1: Add PDF Documents
Click "Add File" or "Add Folder" to add PDF documents that you want to send out. And please make sure that these PDF files contain recipient email addresses.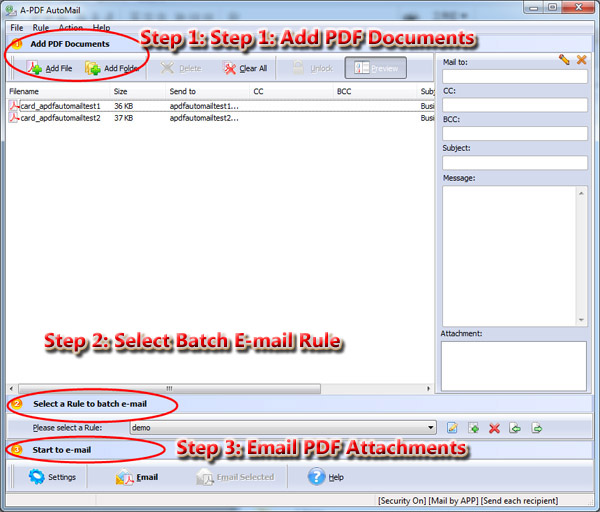 Step 2: Select & Edit Batch E-mail Rule
You can select a rule from existing rules or click "Add rule" to import new rules. Then click "Edit rule" to edit the selected rule. In the "Edit Rule" window: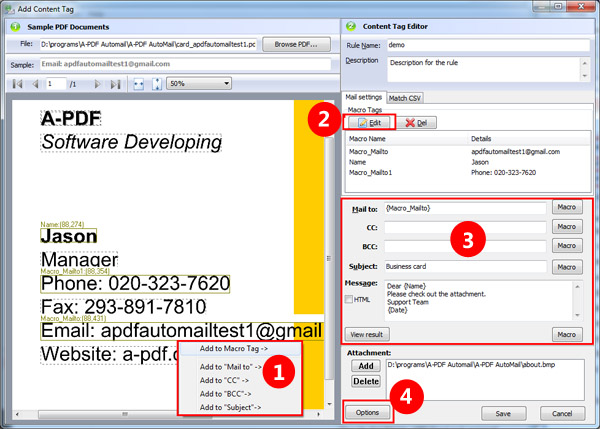 1) Move your mouse to the content (email address) that you want to add macro, click it and in the drop-down list, select a macro tag such as "Add to Macro Tag".
2) Under the "Mail settings", select the macro tag and then the "Edit" button, and you can edit the macro tag: change macro tag position, name and so on.
3) Match macro: click "Macro" and select a macro tag for each item (Mail to, CC, BC, Subject and Message).
4) Click "Option" to set security and watermark for the attached PDFs.
Step 3: Email PDF Attachments
Before you send email, you can click "Settings" to configure Email settings and Send settings. For example, you can block some email addresses. And at last, click the "Email" button to begin sending email.
Related products
A-PDF Merger - Combine two or more image files or Acrobat PDF files into a single PDF document
A-PDF Split - Split any Acrobat PDF file into separate pdf files base on page, bookmark and more
A-PDF Mailer - Batch email sender allows you to send PDF files with dynamic watermark to multiple recipients
We always like improving our products based on your suggestions. Please send your feedback (or ask questions) to us in the contact page.