How can I add new metadata to new PDF file by using A-PDF PPT to PDF?
Question
A-PDF PPT to PDF helps me a lot to convert PowerPoint to PDF file. Now I want to know how to add new metadata for output PDF file by A-PDF PPT to PDF. Would you please show me the tutorial in simple words?
Solution
Sometimes, we need to convert PowerPoint into PDF for sharing and exchanging without changing the style and formats. Anyway,
A-PDF PowerPoint to PDF
is one of the most popular PDF tool for users to convert PowerPoint file to PDF file with simple steps. Furthermore, in order to meet different needs for users, A-PDF PowerPoint to PDF provides three modes for users to batch convert PPT to PDF in minutes. Now follow the steps to add metadata for your new output PDF files by A-PDF PPT to PDF easily. Step1: Select a mode There are three modes Batch Convert Mode, Hot Directories Mode and Command Line Mode in A-PDF PPT to PDF. Just select a proper way to convert PPT to word with ease.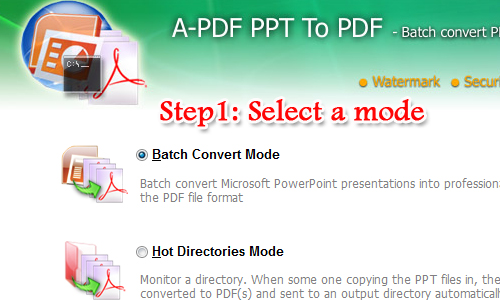 Step2: Import PPT And then click add button to import multiple PowerPoint files easily. What's more, you are able to add PPT folder to convert as well. By the way, you can remove the selected file and clear all files with simple click.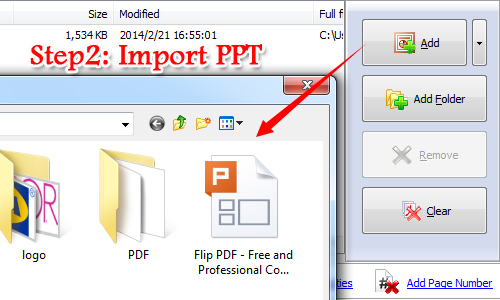 Step3: Customize Output PDF Metadata Then press "Setting" button to continue. Move to "Properties" section and then start to add metadata such as title, subject, author and keywords settings. Click "OK" to save the change and continue.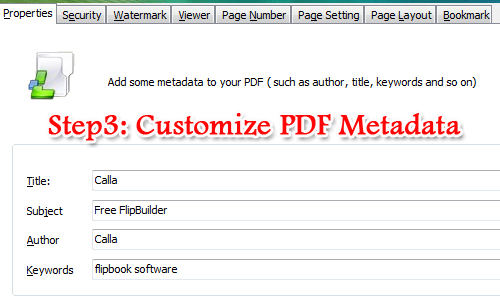 Step4: Convert PowerPoint to PDF Finally, click "Convert to PDF and Save As" to convert PowerPoint to PDF and save as a new file. Once it finishes converting, you can go to have a look at the PDF file with ease.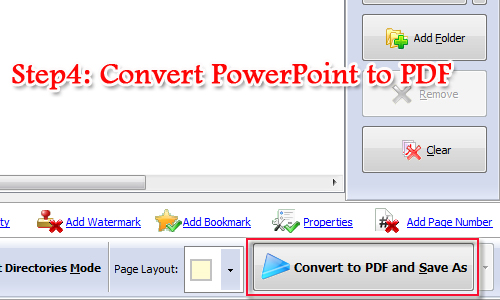 Related products
We always like improving our products based on your suggestions. Please send your feedback (or ask questions) to us in the contact page.