How can I extract large images from PDF file with A-PDF Image Extractor?
Question
I just downloaded a PDF file from a tourism website and I like the images of beautiful sceneries as well as other fancy treasures. I want to collect these nice looking images but I don't know how to extract them. Besides, I just want the large size images because the small size ones are too small. So how can I get the large size images from the PDF? Can A-PDF Image Extractor help me with this?
Solution
A-PDF Image Extractor allows you to extract the images from PDF files in seconds. You can extract all images, or only small size images or only large size images. It is very easy to operate and you can follow below steps:
Step 1: Add PDF Documents
Click "Add PDF documents" or "Add directory to list" to add PDF documents.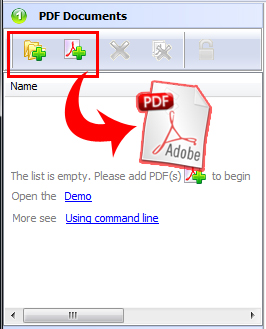 Step 2: Select Image Extraction Size
In the Extracting Option section, select "Only extract large images".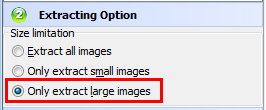 Step 3: Extract Images
Click "Extract All" or "Extract Selected" to extract large size images from all or selected PDF files in the list.

Step 4: Save Images
After you click "Extract All" or "Extract Selected", you will see images list in the Preview box. Click "Save all of images" or "Save selected images" to save the extracted images. And you can save the extracted images in original format or other formats.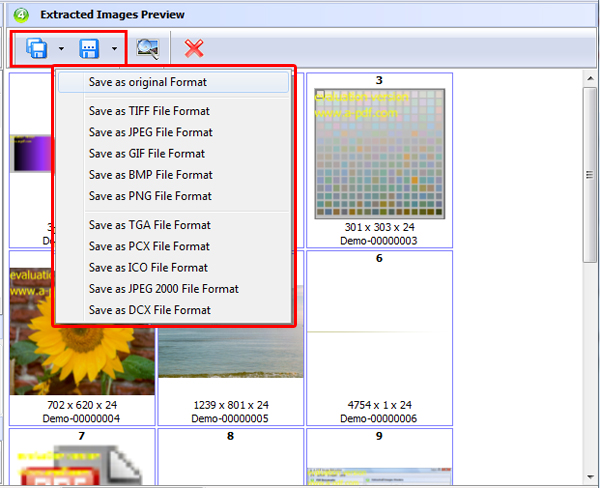 Related products
We always like improving our products based on your suggestions. Please send your feedback (or ask questions) to us in the contact page.