How can I split PDF file by bookmark with A-PDF Split?
Question
I have a PDF document that has bookmarks, and now I want to split the PDF into small pieces based on the bookmarks (table of contents), how can I do this with you software?
Solution
You can try A-PDF Split that can help you split a large PDF file into smaller pieces based on different criteria, including bookmark and every N page(s). This software is affordable and doesn't require you to install any third-party software. It is very easy to use and it can split the PDF within a minute. You can follow below step-by-step tutorial to split your PDF file by bookmark.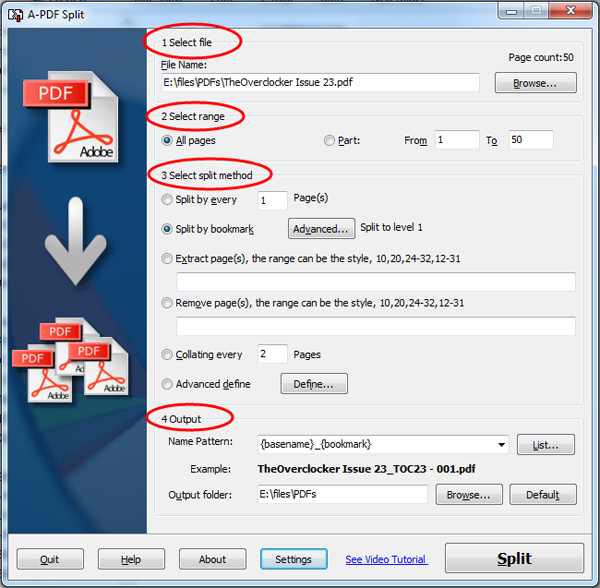 Step 1: Add PDF File
Click the "Browse…" button to browse PDF in your local files and select the one you want to split.
Step 2: Select Range
Select the page range of the PDF to split. You can select all pages or a range of the PDF.
Step 3: Select Split Method
There are multiple methods for you to choose. And here we take "Bookmark" as an example. Select "Split by bookmark" and click "Advanced…" to select "Split Level" of the bookmark, as below screenshot shows.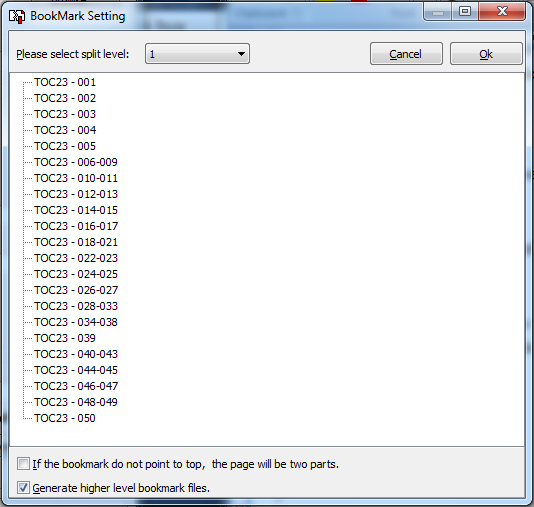 Step 4: Define Output Settings
You can select a name pattern for the each divided PDF file, and then choose an output folder.
Note:
If you want to add properties and security for the output PDF files, you can define settings by clicking the "Settings" button at the bottom of the software UI.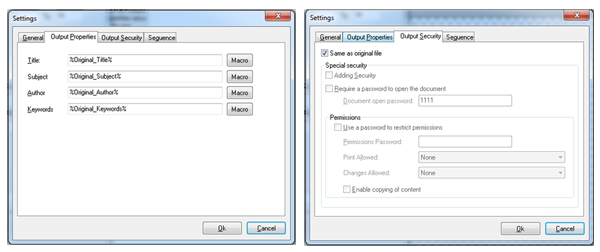 Related products
We always like improving our products based on your suggestions. Please send your feedback (or ask questions) to us in the contact page.