How to batch sending PDF files automatically with recipient email inside the PDF file?
Question
I have a few PDF documents that include email addresses, and I want to send these PDFs to these email addresses. Do you have any suggestion?
Solution
In this case, I think A-PDF AutoMail would be your best choice. This mailing software enables you to grab email addresses from PDF documents and then deliver the PDFs to those addresses via email. And below instructions will show you how to do this.
Step 1: Add PDF documents
You can add PDF to the list by clicking "Add File" or clicking "Add Folder" to add multiple PDFs.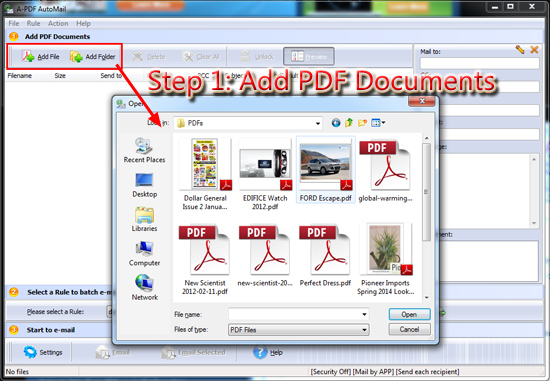 Step 2: Select or edit a rule to batch e-mail
Originally, you can select the "demo" rule as the email rule. But to specify your needs, you can click the "Edit rule" button to edit the rule. After you click "Edit rule", you will see a pop-up window (Add Content Tag). There you can click on the email address and select "Add to 'Mail to'", then you can define other email settings such as CC, BCC, subject and message. And click the "Save" button to save the rule.
Step 3: Start to e-mail
Before you send email, you can click "Settings" to email settings and sending settings. At last, click "Email" or "Email Selected" to send email to the recipients listing in the PDF files.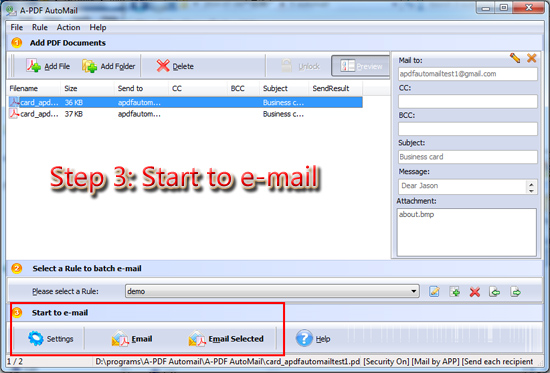 Related products
A-PDF INFO Changer - Change the PDF file properties, include author, title, subject, keywords
A-PDF Mailer - Batch email sender allows you to send PDF files with dynamic watermark to multiple recipients
We always like improving our products based on your suggestions. Please send your feedback (or ask questions) to us in the contact page.