How to Change Background Image and Sound of Flipping Page Book
Question
During making a flipping page book, you may want to show your intelligence by the flipping book maker. From the details you can fully show your creativity, for example changing the background Image and sound file to suit the content of your original document in flipping book. Then how to alter the background files?
Solution
In A-PDF FlipBook Maker, changing the background files by the most obvious factors of Image and Sound. Then let me show you applying this feature steps by steps:
Prepare:
1.Download a flipping book maker tool & prepare a PDF file;
2.Importing your files to the flipping book maker.
Change Image:
1.Open custom panel;
2.Input "background" in the search bar of custom panel;
3.Go to background file option and browse your Image file;
4.Apply change to save settings of background Image.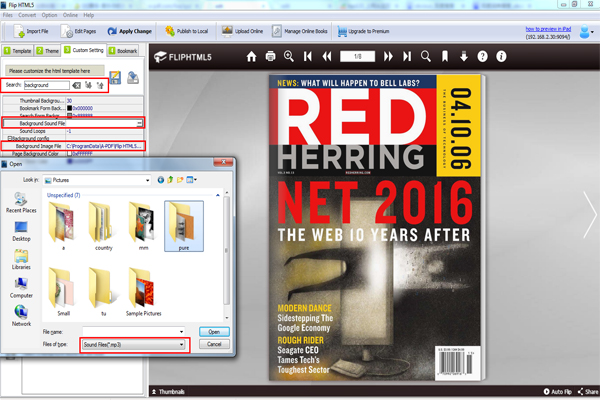 Change Sound:
1.Input sound in search bar under custom panel;
2.Choose sound file to your flipping book and apply change.
Related products
We always like improving our products based on your suggestions. Please send your feedback (or ask questions) to us in the contact page.