How to convert images (jpeg, png, gif, bmp, jpg) to PDF files by using A-PDF Image to PDF?
Question
I have a batch of images and I want to convert them into a PDF document. But the images are of different formats, some of the images are of jpg format, some png, and others gif. Can you show me how to do this if any of your products can do it?
Solution
A-PDF Image to PDF is a useful and easy-to-use utility that can help you convert a bundle of images into an Adobe PDF file. And this software support many different image formats, including *.jpg, *.png, *.bmp, *.gif, *.tif and so on. You can add images in different formats at the same time and convert them into a PDF file quickly. Besides, you can crop the images to fit or unify the size of PDF pages, adjust contrast and brightness, etc. What's more, with this image to PDF generator, you can set page size, properties, watermark and security for the output PDF document.
And below I will show you how to convert images to a PDF file in steps:
Step 1: Add Images
Run A-PDF Image to PDF, and click "Add Image(s)" to browse images in your computer and select images you want to convert to PDF.
Step 2: Customize Output Settings
Click the "Setting" button to customize the settings for the output PDF. You can define page size, page layout, image transform, add bookmark, set properties, add security and watermark, and so on.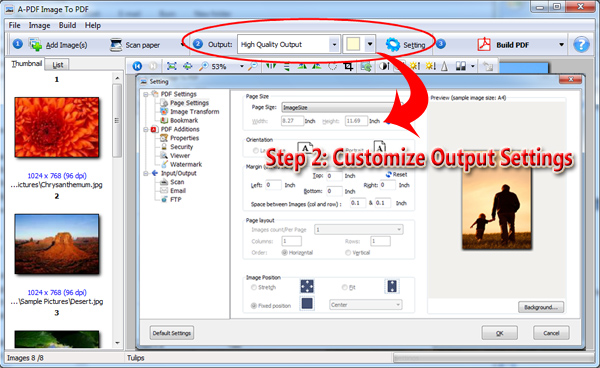 Step 3: Convert Images to PDF
Click "Build PDF" to convert the added images into a PDF document, or you can click the inverted triangle to select another option for conversion.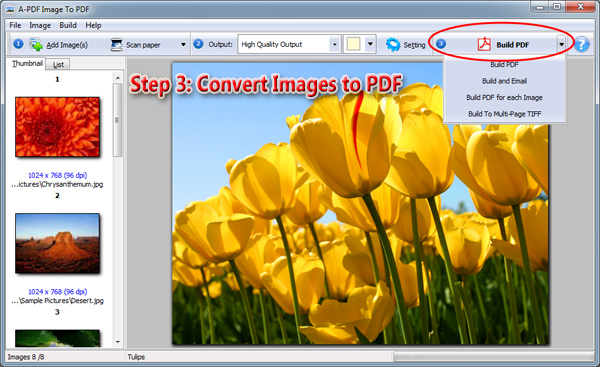 Related products
A-PDF Word to PDF - Batch convert MS Word file into professional-quality PDF documents
A-PDF Excel to PDF - Batch convert MS Excel file into professional-quality PDF documents
We always like improving our products based on your suggestions. Please send your feedback (or ask questions) to us in the contact page.