How to create a hard cover online ebook by using A-PDF to Flash
Question
Hard cover can make our book look more quality. It helps us to improve the level of ebook. I have installed A-PDF to Flash to create online flipping ebook from PDF document. How do I create a hard cover for flipping online ebook?
Solution
A-PDF to Flash provides you with the cover setting, which you can use to add a hard cover for the cover and back cover of flipping ebook. For making the book look more classical, you can enable show cover border with different color and width. Now let us see the below tutorial to know how to create a hard cover online ebook by using A-PDF to Flash.
Step1: After importing PDF to A-PDF to Flash, we can preview the effect on template design interface;
Step2: Open design setting->cover setting, choose yes to enable hard cover, define cover border color and width;

Step3: Apply change to save the settings and then preview;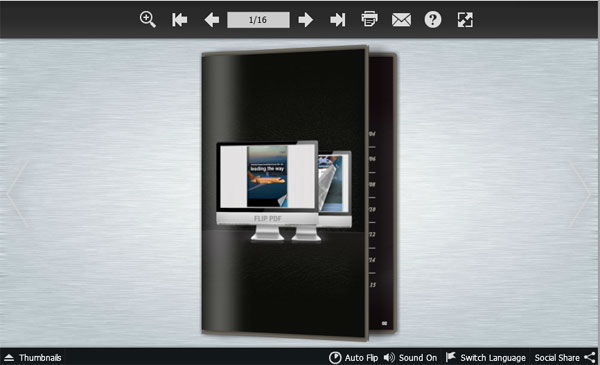 Step4: Open upload online panel to publish your hard cover online ebook.
Related products
A-PDF Watermark - Add image and text watermarks to a batch of Acrobat PDF documents
A-PDF Number - Add/create page number in PDF pages
A-PDF Label - Batch add formatted dynamic Label fields (mailing label) such as Name, Address, City to custom PDF templates (such as in form letters, on envelopes, business card, name badge and so on) for printing, The Label fields lists information come from a spreadsheet in MS Excel file
We always like improving our products based on your suggestions. Please send your feedback (or ask questions) to us in the contact page.