How to make page voice and background music running together?
Question
Hello, I have created lots of flipbook with FlipBook Creator. I have to admit it is very powerful, but I get stuck by follow situation, I want add background music for my flipbook, but also want have a voice to introduce each page of flipbook. Can those two sounds existing at the same time?
Solution
Of course, you can use A-PDF to Flipbook achieve your goal. Actually the virtual assistant of flipbook is you wanted, you can add the virtual assistant to introduce each page of your flipbook.
Here are steps to show you how to apply assistant feature in detail:
Step1: Quick start.
Launch FlipBook Creator software, start a new flipbook project;
Step 2: Select templates and themes
Choice a template from template list, and then import PDF for conversion;
Step 3: Add Assistant.
Find and select the Assistant panel, and then double click to apply assistant between Lily and Mr.Jam.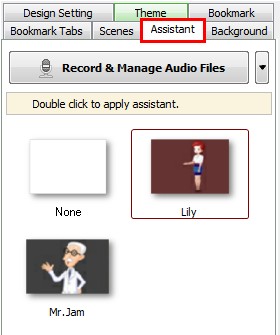 Step 4: "Record Audio Files
Click button "Record & Manage Audio Files" to add text and audio for each page;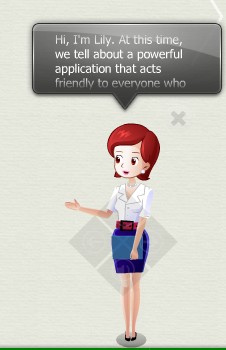 Related products
We always like improving our products based on your suggestions. Please send your feedback (or ask questions) to us in the contact page.