How to Merge Multiple PDF Files Into One PDF with A-PDF Merger?
Question
I am looking for a PDF tool to merger several PDF files into one PDF. Fortunately, I got A-PDF Merger. And now I wonder how to merger multiple PDF file into single file as quick as I can. Please show me how to make it work.
Solution
A-PDF Merger is one of the most popular PDF tools of A-PDF. Then what A-PDF Merger use to do? Imagine that you have multiple PDF files for a case, in order to archive and view easily, you may need to merger all of them into one single PDF files. In this case, A-PDF Merger can help you solve the problem with ease. Please check the following steps to merger several PDF files into one easily.
Step1: Add Files and Select Files
Run A-PDF Merger, Click "Add" to add multiple PDF files. And then continue to select PDF files and import it into A-PDF Merger. By the way, you are able to capture the screen and insert screenshot into your merged file as well.
Step2: Customize PDF Order, Merge Method
Then continue customizing the settings. For example, change the order of imported PDF files, remove the unnecessary PDF for screenshots and set merge method. In merge method, you can merge whole and part of imported files.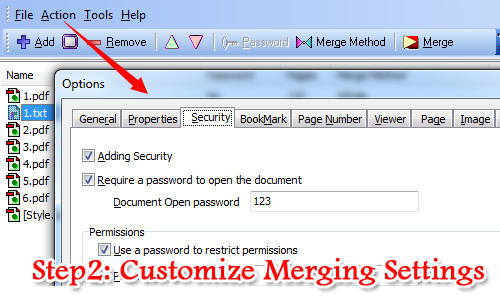 Step3: Customize Advanced Setting
Click "Tool" and select "Option" to go ahead. And then you can get start to customize Merged PDF properties (title, subject, author and keywords), security setting, bookmark setting, page number, viewer setting and watermark setting exactly.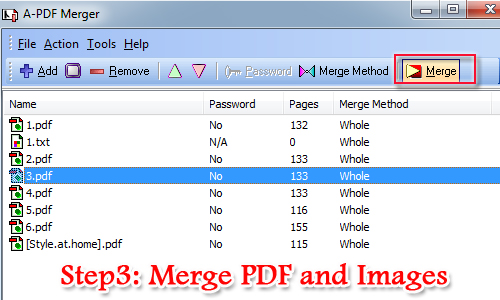 Step4: Merge Multiple PDF Files into One
Finally, click "Merge" to merge your imported files into one PDF file with ease. Before it merges, you have to define merge output directory. Once it merges successfully, you can start to check your merged files.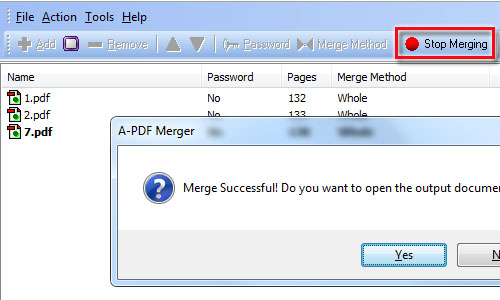 Related products
We always like improving our products based on your suggestions. Please send your feedback (or ask questions) to us in the contact page.