How to scan paper document to PDF file by using A-PDF Image to PDF?
Question
I have a lot of paper documents, including photos, drawings, scans and faxes. I want to convert them into a PDF in order to present better to my clients. And I want to set password to the PDF; can I use A-PDF Image to PDF to achieve it?
Solution
Ok. A-PDF Image to PDF can help you solve this problem. With the help of A-PDF Image to PDF, it is convenient to scan paper document to PDF file. It allows you to modify your output PDF files, such as adding the password. Besides, it supports most image format, even images from scanners and digital cameras.
In addition, you do not worry about the operation. It is so easy just as I show you below.
Step1: Add image;

Step 2: Modify the output PDF-Click the "Setting" button and choose the content you want to set;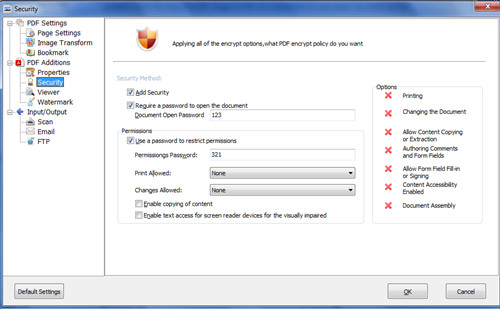 Step 3: Output and save.

Related products
We always like improving our products based on your suggestions. Please send your feedback (or ask questions) to us in the contact page.