How to Search Contents in Flash while Reading on Mobile Devices?
Question
As a faithful user of A-PDF solution, I wonder if I can flexibly use the search feature on my mobile devices? Because I have tried it before, there are some problem with my devices and I have no text based PDF so far. If it can be work, I can make one to show to my customer.
Solution
Yes, now the latest Flipping book maker of A-PDF FlipBook Maker supports your mobile devices viewing, so does the features you have set for the Flash.
If your mobile devices can type in the keywords which are contained in the original PDF and most important thing your PDF is not Image based, but text based, there would be no limitation for you to search on PC or on Mobile devices.
After importation, please go to design panel to show the search button as the most primary thing!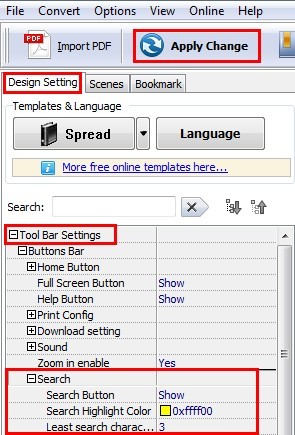 Set the Search highlight;
Alter the least search characters numbers which will decide how many words people need to type in the search bar when using the search feature;
Apply change and try the search feature in Flipping Flash, if you are satisfied with the searching effect, you can output or publish the Flash;
Get a mobile version to try on your Mobile devices.
Related products
A-PDF Manual Split - you split your PDF documents into pieces by hand
A-PDF Creator - Create professional quality PDF documents by simply "Print" in any Microsoft Windows application.
Photo SlideShow Builder - Convert photos to professional slideshows in EXE, SCR, WMV, AVI, MPEG, CD, DVD mode.
We always like improving our products based on your suggestions. Please send your feedback (or ask questions) to us in the contact page.