How to Show FlipPage Flash Book Online?
Question
I cannot make sure that my personal computer will always be my side, but I sometime need to show my flippage Flash of new products to my customers, what should I do? How can I upload my flippage Flash Book, by the way, I need a simple way.
Solution
As we all know, the A-PDF FlipBook Makeris an online flippage Flash Maker, so in this software, you naturally do not need to worry about the uploading. But not everyone needs the upload feature; they may have their own website, so actually there are two methods to make Flippage Flash Book online.
First one is directly uploading flippage Flash in FlipBook Maker which would be the most convenient and easiest way.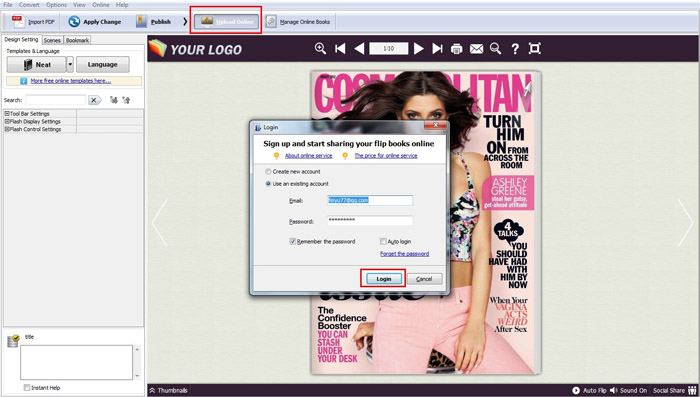 After all customizations in FlipBook Maker, you can press upload button on the frame, and get an authority of uploading which means you need to be an upper user of the software; Then you can follow steps to finish uploading.
All uploaded flippage Flash book on A-PDF may be transmitted by social hot medium, email and also the simple copy and paste the URL to others. Besides, you can get embedding code to add the flippage Flash book to your blog or website.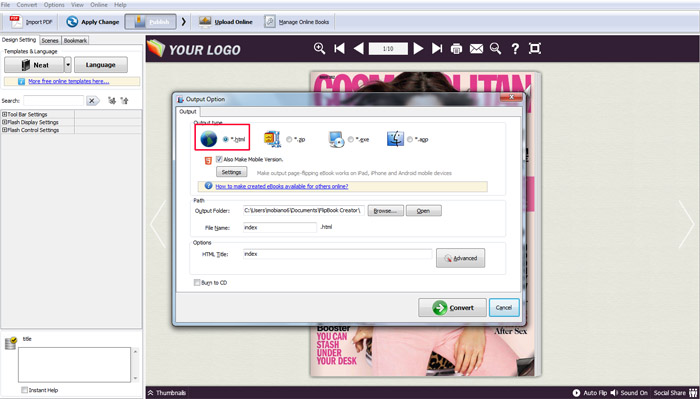 Another upload method needs you have an uploading tool and a website. You can use tool to upload the HTML version flippage Flash book which you have converted and published in FlipBook Maker.
Also you can use FTP upload feature in outputting options of the software to upload your book to your site directly.
Related products
A-PDF Visio to PDF - batch convert Microsoft Visio 2003, 2007 (.vsd, .vdx) into professional-quality documents in the PDF file format.
A-PDF Page Master - Manage and organize PDF document pages, including edit, arrange, merge, extract etc.
A-PDF OCR - OCR scanned PDF paper books and documents into editable electronic text files fast and easily.
We always like improving our products based on your suggestions. Please send your feedback (or ask questions) to us in the contact page.