How to split PDF file into multiple parts with different splitting method by using A-PDF Split?
Question
I am in trouble that I just want to share certain pages of my PDF, but my PDF file contains many pages, even some of them are private. Is there any method that can help me settle this problem? How can I split my PDF files?
Solution
OK. A-PDF Split can help you settle this problem. A-PDF Split is an easy and effective tool that is designed to split multiple PDF file into several small PDF files. There are different splitting methods so that you are unnecessary to worry that the private pages are exposed. A-PDF is an independent application, and no third party application required.
How can I use different methods to split my PDF? Don't worry. Here is the process. At first, you need to have your own A-PDF Split in computer. And then I will show you step by step:
1. Browse and select PDF file that you need to split.

2. Choose the page range and split method: by every n page, bookmark, odd or even pages: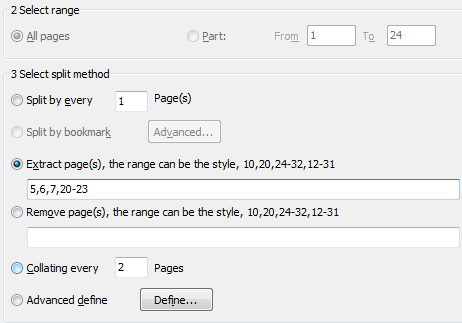 3. Select the name pattern of output PDF.

4. Split

Related products
We always like improving our products based on your suggestions. Please send your feedback (or ask questions) to us in the contact page.