How to stamp text watermark on the PDF file while converting Word to PDF?
Question
I have tried many Word to PDF converters, and some worked good for me. But now I want to add text watermark to the output PDF files. Can you show me how to do this while converting Word documents to PDFs?
Solution
A-PDF Word to PDF is a practical utility that allows you not only to convert MS Word documents to Adobe PDF files, but also to stamp the PDF files with text watermarks, image watermarks and custom watermarks. And it is very easy to add watermark to your PDF with this Word to PDF converter.
Step 1: Add MS Word Documents
Run A-PDF Word to PDF, and click "Add" or "Add Folder" to add Word documents to the conversion list.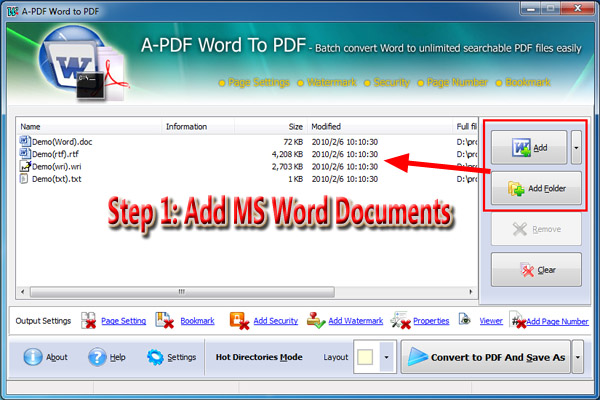 Step 2: Add Watermark
After you add Microsoft Word documents, click "Add Watermark" and in the pop-up window, check "Applying Watermark" and select one or more watermarks. And you can also click "Add Text Watermark" and "Add Image Watermark" to add new watermarks. Or you can double click a watermark or click the "Edit Selected Watermark" icon to customize it. Then click "OK" to save the settings.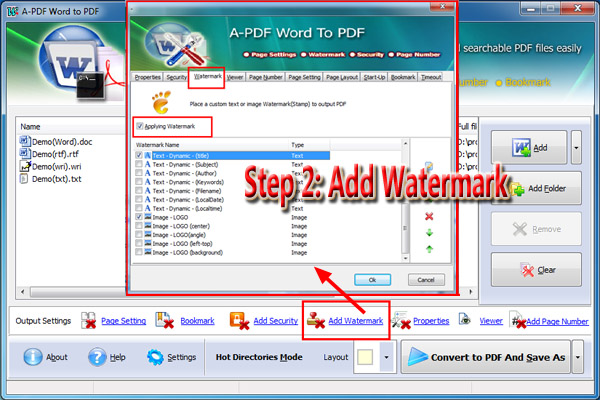 Step 3: Convert Word to PDF
Click "Convert to PDF And Save As" button to convert imported MS Word documents to PDF files.
Related products
A-PDF Watermark - Add image and text watermarks to a batch of Acrobat PDF documents
A-PDF Excel to PDF - Batch convert MS Excel file into professional-quality PDF documents
A-PDF Office to PDF - Batch convert MS Office file into professional-quality PDF documents.
We always like improving our products based on your suggestions. Please send your feedback (or ask questions) to us in the contact page.