Use Digital Publication Software to auto flips your flipbook.
Question
I want add auto flip feature on flipbook, so Readers can freely choose flip mode to improve reading experience.
Solution
Yes, you can easy make your flipbook flip automatically with use A-PDF to Flipbook.

Here're steps in detail

Step1: Launch A-PDF to Flipbook program, then import Adobe PDF from local disk;

Step2: Choose a template from Template box (Use Float as example);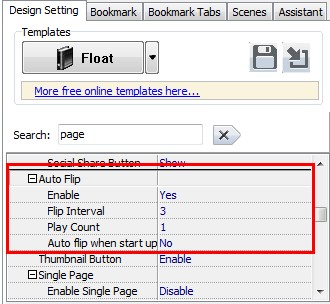 Step3: Find "Auto Flip" bar on Design Setting Panel (Design Setting -> Toolbar Settings -> Buttons Bar ->Auto Flip);

Step4: Set Auto Flip Settings
Enable -> Yes
Flip Interval -> input you want number
Play Count -> input you want flip count number
Auto Flip when start up -> Yes or No for you options;
Step5: Click "apply change" to refresh flipbook, then you can click "auto flip" button to make you flipbook flip automatically.

Related products
We always like improving our products based on your suggestions. Please send your feedback (or ask questions) to us in the contact page.