Use Flash Flipbook Software to set language switchable?
Question
I want to create multi-language support flipbook for different speaking readers, readers can click button to switch flash book's language. Can I achieve this in Flash Flipbook Software?
Solution
To make your flipbook's language switchable, please follow blew steps:
Step1: Run your A-PDF to Flipbook Pro software, and create new flipbook project;

Step2: Choose one template from template interface, and import PDF from your computer;
(Neat template as example)


Step3: Multi-select language from Languages list in Language Settings (Options -> Flash Language -> Language Settings)


Step4: Find Language bar on in Design Setting (Design Setting -> Tool Bar Settings -> Button Bar -> Language), then select "Yes" in Switchable bar.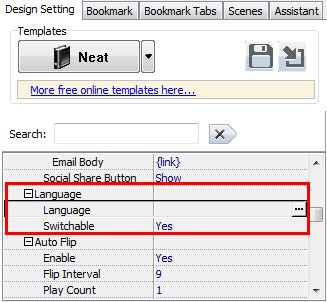 Step 5: Apply settings to refresh your flipbook, then you can click Switch Language button to switch language.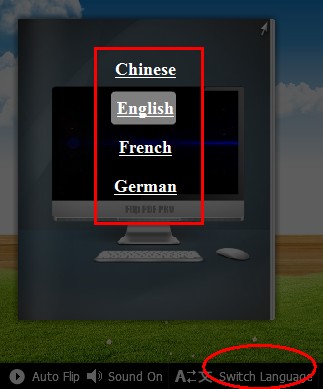 Related products
A-PDF Rename - batch rename multiple PDF document based on content, metadata and file attributes(Size, Datetime) within PDF files. You can batch change or update multiple PDF files metadata (title, creator, producer, author, subject and keywords) as well as
A-PDF Flip Word - Import Office word Doc or scan from paper, output flipbook with page-turning effect.
A-PDF to Flipbook for iPad - Publish amazing flash flipping edition that can be viewed on iPad
We always like improving our products based on your suggestions. Please send your feedback (or ask questions) to us in the contact page.