Use Page Flip Software to add logo on your flipbook
Question
How can I add my company logo on my flipbook for showing to readers? As you know add Logo is a good way to promote the image of company.
Solution
Of course, you can any our flip software to add logo icon on your flipbook.
Here we use A-PDF to Flipbook as example to show you how to add Logo in steps:
Step1: Run our A-PDF to Flipbook software, and then import PDF from local disk;

Step2: Choose Float template from Template List (Some of templates we offered don't provide Logo option)

Step3: Find "Title Bar" at Desgin Setting Panle: Design Setting -> Tool Bar Settings -> Title Bar.

Step4: Set settings: Add logo icon on "The Book Logo" bar; Add link for you logo on "Logo URL" Bar; Add title on "Book Title".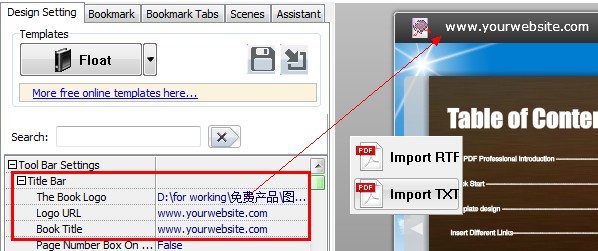 Step5: Apply changes, and then you will find your logo has already showing on right top of the flash window.
Related products
A-PDF Batch Print - Print multiple word, pdf, excel documents and more.
A-PDF Page Master - Manage and organize PDF document pages, including edit, arrange, merge, extract etc.
A-PDF Filler - Edit, insert images, draw graphs on PDF documents, even scan papers for editing in PDF format
We always like improving our products based on your suggestions. Please send your feedback (or ask questions) to us in the contact page.