Use PDF to Flash Page Flip Converter to change page thickness
Question
If I can define the flip pages thickness, the flipbook will become more realistic. So I wander is there have method for me to change page thickness in A-PDF to Flipbook?
Solution
Yes, with use A-PDF to Flipbook, you can design page thickness.
Here are steps in detail:

Step1: Launch A-PDF to Flipbook in your computer, and then import PDF file for conversion;

Step2: Choose Neat template from template resource;


Step3: Find the "Pages Thickness" setting on Design Setting Panel (Design Setting -> Flash Display Settings -> Pages thickness);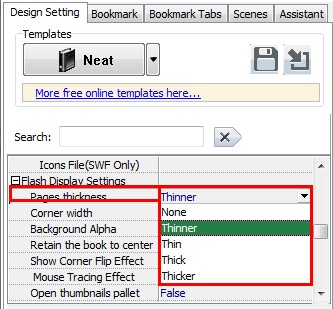 Step4: Choice one of thickness from list, and then click "apply change" button to refresh settings.
Then you will find flip page thickness has been changed.
Related products
A-PDF Label - Batch add formatted dynamic Label fields (mailing label) such as Name, Address, City to custom PDF templates (such as in form letters, on envelopes, business card, name badge and so on) for printing, The Label fields lists information come from a spreadsheet in MS Excel file
A-PDF Page Size Split - batch split Acrobat PDF files into smaller PDF files based on page size.
A-PDF Flip Powerpoint - Create professional flash flip Books from PowerPoint slides or scanner with the "page turning" effect
We always like improving our products based on your suggestions. Please send your feedback (or ask questions) to us in the contact page.