What's the Security Settings in FlipBook, Will It Work?
Question
The flipbook is becoming a popularity among all workers. But for some specialized profession, the file cannot be public for all people viewing. So a security settings in Flipbook becomes very necessary.
Solution
For some reason, some people make flipbooks in A-PDF FlipBook Maker and they need the upload feature but they still need their presentation with some kinds of protection, so the security settings become necessary for them.
The security setting in FlipBook Maker is a simple setting for people to set password to protect their online masterpiece from random viewing.
Next, let's see how to make the security!
First thing for you is to finish the importation of original PDF file and customization of Flipping flipbook in FlipBook Maker;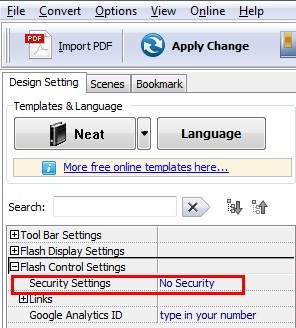 Find Flash Control Settings under Design Panel of the FlipBook Maker main interface, and start setting security for the Flash book.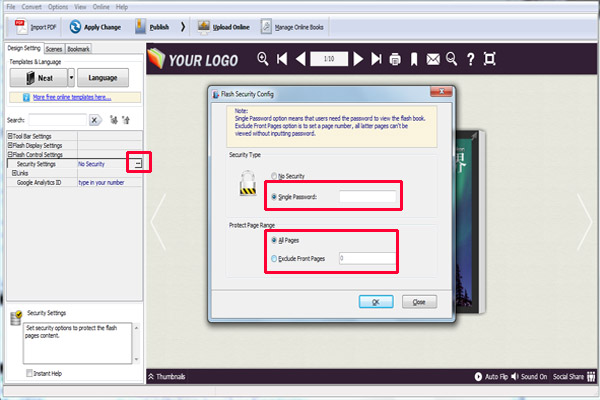 Set a single password and keep the password in your mind;
Let the password protect all pages of the flipbook or some pages with insert the excluding page numbers;
Apply Change and output the book, you can see the security settings have token effects in your flipbook, even you upload all output HTML flipping book file to website, the security settings will be still there to protect your authority.
Related products
A-PDF Content Splitter - Split PDF files based on content
A-PDF Deskew - Correct the skew scanned images in PDF files directly
A-PDF Scan and Split - batch scan large volumes, unrelated documents and then create multiple PDF files separated base on blank page or barcode page
We always like improving our products based on your suggestions. Please send your feedback (or ask questions) to us in the contact page.