A-PDF PPT To Video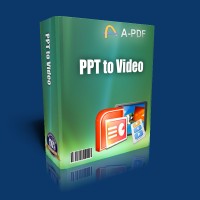 A-PDF PPT to Video is a simple, lightning-fast and powerful desktop utility program that lets you to convert PowerPoint presentations (PPTs) to popular video formats such as AVI, H.264/MPEG-4 AVC, MPEG-2, H.264, FLV and WMV etc. Moreover, it brings no distortion, asynchronization nor a slight loss of PowerPoint effects to any output video.
How does it work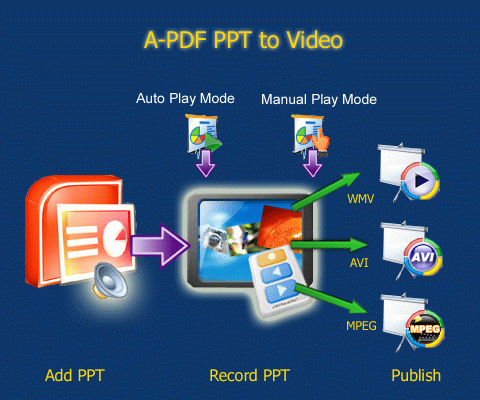 Why A-PDF PPT To Video
Turn any PowerPoint presentation into video just a few click!!!
Are you need to convert PowerPoint presentations to AVI, WMV or MPEG videos then play them with any media player on the computer without Microsoft PowerPoint installed?
A-PDF PPT to Video retain the original elements such as music, movie, video clips, audio files, animations, transition time between slides without any quality loss. Customize ppt settings before converting to video is supported as well. You can change the transition time between slides (Auto-Play or Manual-Play), add background music, upside down video so that make your ppt to video special and unique.
The complete set of A-PDF PPT To Video features include
Supports convert ppt to most popular video formats: you can convert ppt to avi, mp4, mpeg, wmv etc.
Retain original elements including music, movie clips, flash, ect. promises you to convert ppt to video without any original elements loss.
Customize your settings before convert ppt to video: allows you to customize settings such as change transition time between slides, add background music, ignore the music in PowerPoint presentation, mute while conversion.
Set Advanced settings: provides you advanced settings to make your output video perfect and wonderful such as change bit rate, frame rate, video codec, video size.
Flexible Output Options: A-PDF PPT to Video offers users different layouts for different screen needs, flexible options for video and audio parameters, and custom settings for conversion considerations. A-PDF PPT to Video allows them to insert as much background music as possible, and automatically sorts the new and previous audio files in a selected PowerPoint file.
Fast Speed & Clear Result: It generates a slick video from your PowerPoint file within a few minutes. The smooth video slideshow brings you a thrilling enjoyment. When playing on Windows Media Player, an extreme ease when distributing via the Internet and a safe comfort since the presentation stuff is finalized against unwanted modification.

Save Time
Customize look and feel and publish your video!
Easy to learn and operate.
Save Money
A-PDF PPT To Video is a standalone program costing only $27.
| | | |
| --- | --- | --- |
| | | |
| only $27. | | Free download trial version |
See also
Current version 1.3.0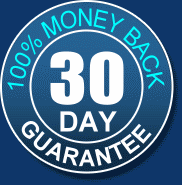 Requirement: Windows
2000/XP/Vista/7