A-PDF to Flipbook Pro (Flip PDF Pro)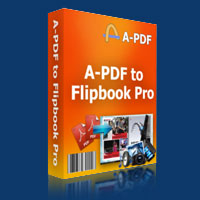 A-PDF to Flipbook Pro is a powerful flash page flipping book maker. This software can not only convert PDF to flipping book with animation page turn effect and sound, but also allows you to embed rich multimedia and links to the animation flip book.
With the application of multimedia and other functions, this flip book maker will jazz up your flip book and add more value to your page flip book. You can make your PDF more outstanding and will attract more and more readers.

only $299
Get a free license >>
Free download trial version
See examples created
by A-PDF to Flipbook Pro
Main Features
"Edit Pages" Application
"Edit Pages" application allows you to add multimedia, links, buttons and printable area to any page you like.
Application of Rich Multimedia

1. Embed video or flash (FLV or SWF format) or YouTube video.

2. Add sound file (MP3) to play music.

3. Add image and select an action type.

Insert links

Insert internal links (page links) and external links (website links and e-mail links) to improve user experience.

Add buttons

Add buttons to call new actions: go to page, open a link, call JavaScript function, open flash window, play audio and photo slideshow.

Add printable area

Add printable area and your readers can print it out as coupon.
Output in Flexible Forms
A-PDF to Flipbook Pro enables you to publish the animation flip book in optional forms:
Make HTML to turn it into a webpage and upload onto your site.
Output in EXE form as a standalone executable file.
Package in ZIP file to send to others
Create App format to view on Mac devices.

Make mobile version that can run on tablet devices like iPad, iPhone, Android phones.

Burn it to CD that can play on computer.
Mobilize Your Flip Book
By making a mobile version of the flip book, this page flip program enables your book to reach your readers anytime, anywhere. And they can use iPad, iPhone, Android phones or other mobile devices to access your publication easily via browsers.
Batch Convert Mode
With A-PDF to Flipbook Pro, you can batch convert multiple PDF files into multiple or a single flip book at the same time. This will absolutely save your time.
Command Line Mode
You can use Command Line Mode to convert PDF to flipping book. If you choose this convert mode, you don't need to open the Windows desktop application, but finish the settings in a command box.
Permission Settings Ensure Safety
You can set limitation to prevent your interactive page turn book from being printed, downloaded or shared in custom settings. What's more, you can set authentication by encryption: protect all pages or custom range pages from being viewed.
Generate Thumbnail Index
A-PDF to Flipbook Pro will not only help you convert PDF to page flip book, but also make it easier to navigate through the flip publication. While importing PDF files, this flip book maker will generate a thumbnail index for the flash page flipping book automatically.
Add Table of Contents
Before importing files, you can enable "Import bookmark", and this page turning software will reserve the table of contents of original PDF. And even though your PDF doesn't contain a table of contents, you can also add and define one for your flip publication by yourself.
Increase Visits via Sharing
The share function can help you to increase visits to your creative edition quickly. On one hand, you and your readers can send the site link of your flipbook to others via e-mail. On the other hand, you and your readers can share the appealing flip book via social networks, e.g., Facebook, Twitter and Digg.
Google Analytics Integration
A-PDF to Flipbook Pro integrates Google Analytics to help you collect statistics of your flip book: how many visits, how long readers stay on each page, which page gets most visits and so on. Just add your Google Analytics ID and you will know how your publication performs.
Favorable and Considerate Services
One-time fee, no hidden fee or subscription fee.
Free upgrade for the later versions.
30 days full refund guarantee.
Customizable Features
1. Brand your flip book with approved logo and book title to show your corporate identity.
2. Choose template to match your book style, e.g. color or skin.
3. Add the background image for the flip book.
4. Add sound file (MP3) as background music, and define sound loops.
5. Enable or disable the function buttons like Home, About, Full Screen, Help, Print, Download, Zoom, Search, (Social) Share or Auto Flip.
6. Show "Home" button and define page URL to allow readers go to homepage with ease.
7. Add "About" button to show your or corporate info and contact info.
8. Add "Help Content File" (Image or SWF only) to guide your readers.
9. Add printing watermark file (Image or SWF only) such as your logo so that people can recognize you when they print out the file.
10. Select to open window in blank or self window.
11. Zoom function and vector technology provide readers with crystal clear quality.
12. Share flipbook via e-mail or social networks such as Facebook and Twitter.
13. Set access permission by encryption.
14. Enable auto flip and set flip interval and play counts; set auto flip when start up or not.
15. Select flash font type for the page turning book.
16. Change and choose color for font, icons, background and toolbar to refresh readers' vision.
17. Support multiple international languages and you can choose two or more to make languages switchable.
18. Define page thickness to make it feel more like an actual book.
19. Show corner flip effect to let readers know that they can drag the corner to turn page.
20. Set book margins and proportions for the flash PDF flipbook.
21. Set right to left (for example, Arabic) or left to right reading mode.
22. Choose hard cover for the flip book.
23. Use Minime Style to view flip book in a small window with defined proportion; and readers can switch to full screen with a simple click.
24. Add Google Analytics ID to analyze the statistics of your animation flip book.
Reader Experience
When your readers come to your flipbook, they can experience the advantages of the page turn technology as well as your flash page flipping book:
1. Experience realistic page flip effect as they do when reading real books.
2. Flip hard cover of the flip book just like that of a real hardcover book.
3. Turn page in different ways: Drag the page corner, click on page shadow, slide mouse wheel, enter page number, click on page control buttons, and control with keyboard arrows.
4. Use thumbnail and table of contents to search content.
5. Zoom to view clear content or view flip book in full screen.
6. View the book with auto flip instead of turning page manually.
7. Click buttons to watch video or YouTube video.
8. Enjoy the beautiful music while viewing book.
9. Print out the printable area as coupon.
10. Share the flip book with families, friends and colleagues easily (via e-mail or social networks).
11. View the flip book anytime and anywhere with their iPad, iPhone, Android phones.
See also
Current version 1.8.2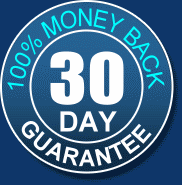 Requirement: Windows
2000/XP/Vista/7