A-PDF to Flipbook (Flip PDF)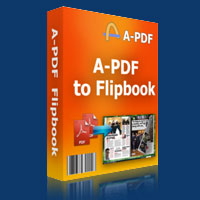 A-PDF to Flipbook is a piece of flip page software that can bring life to your static PDF. This amazing PDF flipbook maker will help you to convert PDF to flash flip books, page turning magazines, page flip catalogs and brochures. You and your readers can flip the created page flip publications just as if you were flipping printed copies.
A-PDF to Flipbook provides various templates of different color and style for you to use. And the powerful configurable settings will enable you to customize your page turning PDF with branded logo and defined title. Besides, you can publish the flash PDF flipbook in optional forms: HTML, ZIP, EXE, App, mobile version or even CD.

Main Features
Customizable Features
1. Brand your flip book with approved logo and book title to show your corporate identity.
2. Choose template from the built-in projects or customize a template by yourself to fit your book style. And you can export and save the template for future use.
3. Change the background image with your preferred one to draw readers' attention.
4. Add sound file (MP3) as background music, and define sound loops.
5. Enable or disable the function buttons like Full Screen, Help, Print, Download, Zoom, Search, (Social) Share or Auto Flip.
6. Add "Help Content File" (Image or SWF only) to guide your readers.
7. Add printing watermark file (Image or SWF only) such as your logo so that people can recognize you when they print out the file.
8. Zoom function and vector technology provide readers with crystal clear quality.
9. Allow sharing your flipbook via e-mail or social networks such as Facebook and Twitter.
10. Add password to retain access permission.
11. Enable auto flip and set flip interval and play counts; whether to auto flip when start up.
12. Select flash font type for the page turning PDF.
13. Change and choose color for font, icons, background and toolbar to refresh readers' vision.
14. Support multiple international languages and you can choose two or more to make languages switchable.
15. Set page thickness to make it feel more like an actual book.
16. Show corner flip effect to remind readers that they can drag the corner to turn page.
17. Define book margins and proportions for the flash PDF flipbook.
18. Set right to left (for example, Arabic) or left to right reading mode.
19. Choose hard cover for the flip book.
20. Decide to open window in blank or self window.
21. Use Minime Style to view flip book in a small window with defined proportion; and readers can switch to full screen with a simple click.
22. Add Google Analytics ID to collect statistics of your flip book.
Reader Experience
When your readers come to your PDF flipbook, they can experience the advantages of the page turn technology as well as your page flip book:
1. Experience realistic page flip effect as they do when reading real books.
2. Flip a hard cover of the flip book just like that of a real hardcover book.
3. Turn page in different ways: Drag the page corner, click on page shadow, slide mouse wheel, enter page number, click on page control buttons, and control with keyboard arrows.
4. Zoom to view clear content or view flip book in full screen.
5. View the book with auto flip without turning page manually.
6. Enjoy the beautiful music while viewing book.
7. Share the flip book with families, friends and colleagues easily (via e-mail or social networks).
8. View the flip book anytime and anywhere with their iPad, iPhone, Android phones.
Easy and Efficient
A-PDF to Flipbook is easy to operate, which requires no other third-party software or professional programming skills. It takes just three steps to output wonderful page flip book: Import PDF—Customize on template—Select output format to start conversion. And you will get a creative publication within minutes.
Import Settings
1. Page range: You can import all pages or just import custom range pages.
2. Page quality selection: There are 5 quality and size for you to output flipbook. High values produce better page quality but require more disk space and more time to download.
3. Watermark: Add and edit watermarks for the flipbook: logos, images, dynamic date/time.
4. Import bookmark: Import table of contents of the original PDF files.
5. Import links: Generate original page links, web links and e-mail links to the flip book.
6. Enable search: Search content within the flip book easily.
7. Detect wide pages: Split landscape page into two portrait pages.
Flexible Output Types
A-PDF to Flipbook allows you to output page turning PDF flash book in optional forms:
Publish in HTML to turn it into a webpage and upload onto your site.
Output in EXE format as a standalone executable file.
Package in ZIP file for easy sending to others.
Create App PDF flipbook to view on Mac devices.

Make mobile version that can run on portable devices like iPad, iPhone, Android phones.

Burn it to CD to play on computer.
Easy Access to Readers
By making a mobile version of the flip book, this page turn software enables your book to reach your readers anytime, anywhere. They can use iPad, iPhone, Android phones or other mobile devices to access your publication easily via browsers.
Batch Convert Mode
With A-PDF to Flipbook, you can batch convert multiple PDF files into multiple or a single flip book at the same time. This will absolutely save your time.
Independent Control Flow
This flip page software is an independent program, you don't need to depend on anybody else, but you create the flip book all by yourself. The whole progress is under your control. And the real-time preview function will show you the change and effect all the time.
Permission Settings Ensure Safety
You can set limitation to prevent your interactive page turn book from being printed, downloaded or shared in custom settings. What's more, you can set authentication by encryption: protect all pages or custom range pages from being viewed.
Navigate with Ease
Flip page: Drag the page corner, click on page shadow, slide mouse wheel, enter page number, click on page control buttons, and control with keyboard arrows.

Thumbnail index: When importing files, this flip page software will automatically generate a thumbnail list of the whole file.

Table of contents: While importing files, you can enable "Import bookmark" to retain table of contents of original PDF. Besides, you can add and define a table of contents for the flip book manually.
Increase Visits via Sharing
The share function can help you increase visits to your creative edition quickly. On one hand, you and your readers can send the site link of your flipbook to others via e-mail. On the other hand, you and your readers can share the appealing flip book via social networks, e.g., Facebook, Twitter and Reddit.
Google Analytics Integration
A-PDF to Flipbook supports Google Analytics which can help you collect statistics of your flip book. You will know how your publication performs: how many visits, how long readers stay on each page, which page gets most visits and so on. Add your Google Analytics ID and you can improve and optimize strategy according to these important data.
Favorable and Considerate Services
One-time fee, no hidden fee or subscription fee.
Free upgrade for the later versions.
30 days full refund guarantee.
See also
Current version 3.8.2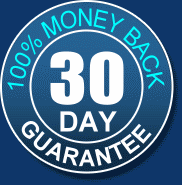 Requirement: Windows
2000/XP/Vista/7