A-PDF Restrictions Remover - Remove PDF copy/print restrictions for home use
Question
In the past, I was used to setting restrictions to protect my PDF documents. But now I find it troubles me when I want to copy and print. Is there any method to remove PDF copy and print restrictions for home use?
Solution
It is common to set restrictions to PDF files. And I understand that it is troublesome for home use. A-PDF Restrictions Remover is designed to help you remove the password and restrictions in seconds. With its help, you can remove PDF copy and print restrictions that you set before. In this way, you can freely copy and print your PDF files.
It is extremely easy to use, which is very different from other software. Once you have downloaded A-PDF Restriction Remover, it is no need to launch it. What you should do is the following simple clicks.
Firstly, right click your PDF file in Window Explorer. Then a list of menu pops up. You can select either "Remove Restrictions" or "Remove Restrictions & Save as …" After a few seconds, you will have your PDF files without restrictions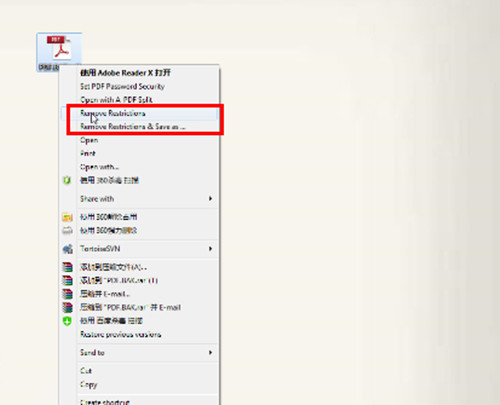 Related products
We always like improving our products based on your suggestions. Please send your feedback (or ask questions) to us in the contact page.