Can i add a Link into flash flipbook to open a local video?
Question
Hello, I want to play video with my flipbook, but I don't want to embed video into flipbook directly. Can I just insert a link and use embedded link to triggers my local video? I know the A-PDF to Flipbook Pro can insert links, please help!
Solution
Hello, you're perfectly correct. A-PDF to Flipbook Pro, you can easy add slideshows into flipbook.
allows you to insert links into flipbook. And make links to triggers local video is also can be achieved.
Below are steps in detail
Step1: After set flipbook settings, click lick "Edit Pages" button to enter into "Flip Page Editor" interface.
Step2: Find "Add Link" button, and click it to draw an insert area on page where you want to add Link.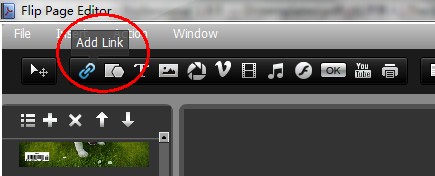 Step3: Define Link Properties. Define Link Color like Over Color, Down Color and so on;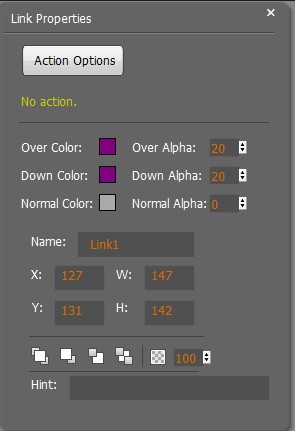 Step4: Select Action Options. Select action as "open a link" and then import you local video URL;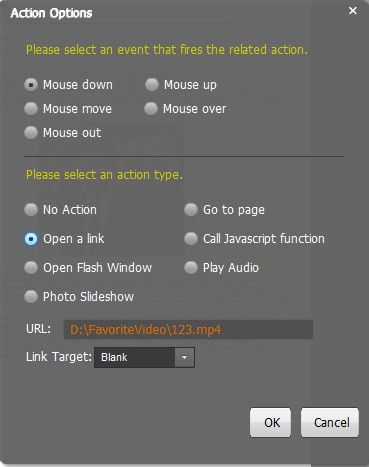 Step5: Save settings and exit Flip Page Editor window, and then refresh flipbook, you can click link to open local video.
Related products
Photomark - Batch add digital watermark(text, image, logo...) to your pictures, protect your photo safety.
A-PDF to FlashBook - Convert PDF documents to flash eBook with 3D Page Sliding Effect in a few minutes.
A-PDF to Flipbook for iPad - Publish amazing flash flipping edition that can be viewed on iPad
We always like improving our products based on your suggestions. Please send your feedback (or ask questions) to us in the contact page.