Can I open a specific page after opening online book link?
Question
I am using your windows professional software to convert a PDF document to online digital book with page turning effect. Its page flipping effect runs fine but I also wish to set the default page number, so that I can directly view the page 4 after opening book link. This will make our reading convenient without need to open page 1 to 4 every time. How to create links to the individual pages of the online PDF flip book?
Solution
With using
A-PDF to Flipbook Pro
software, you can create HTML format flipbook file to local computer. You can publish all flipbook file to your server so that have a book link to set the default page number. Now the below tutorial will show you how to create a hyperlink to a specific page with A-PDF to Flipbook Pro. Step1: Launch A-PDF to Flipbook Pro software to import and design PDF document; Step2: Click "Publish" button to choose HTML option and save path, click "Convert" to output your book file to specific path;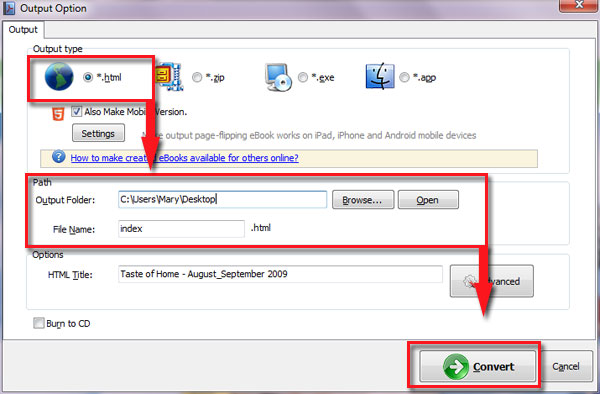 Step3: Publish the output file to your server (via FTP); Step4: Open the book link, write "#p=4" behind "index.html";
Step5: share this link to your friends, when they open the book, it will directly open page 4.
Related products
A-PDF DjVu to PDF - batch convert DjVu (.djvu, déjà vu) into professional-quality documents in the PDF file format
A-PDF Page Size Split - batch split Acrobat PDF files into smaller PDF files based on page size.
A-PDF Scan and Split - batch scan large volumes, unrelated documents and then create multiple PDF files separated base on blank page or barcode page
We always like improving our products based on your suggestions. Please send your feedback (or ask questions) to us in the contact page.