Digital Publishing tool to iPad, iPhone, Kindle Fire & Android
Question
I've written several books and save them in PDF format. Now I want to convert these books into digital books for iPad, iPhone, Kindle Fire and Android. Do you have any suggestion for me or could you recommend some digital publishing tools for me?
Solution
It would be my pleasure to introduce A-PDF Flipbook Maker to you. This digital publish tool will help you create nice eBooks with impressive page turn effect. Besides, it will enable you to make standard version digital books for reading on PC and Mac, as well as HTML5 based mobile versions to run on iPad, iPhone, Kindle Fire and Android-powered devices. You can refer to the following steps:
Step 1: Import PDF
After you open the digital publishing tool, create a new project and import a PDF file.
Step 2: Vivify your eBook with page flip technology
After you import the PDF file, you will be directed into the Design interface. Your digital PDF book will be transformed to page flipping eBook automatically. Now you can select a template and enrich your eBook with a lot of features.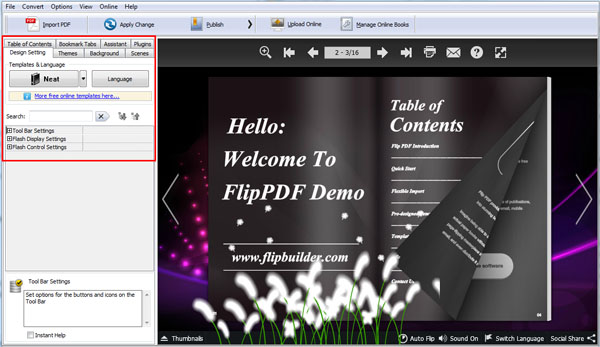 Step 3: Publish Mobile Version eBook Online.
Click "Publish" button and the Output dialog will pop up. Select HTML format and check "Also Make Mobile Version" option below. Define a book name and select an output folder to publish the eBook. At last, you should upload all the output files to your server. And once your digital book is available online, it can be read on iPad, iPhone, Kindle Fire and Android.
Optionally, you don't have to publish the book to local for uploading to your own server; instead, you can click "Upload Online" to publish the eBook to our Cloud Hosting.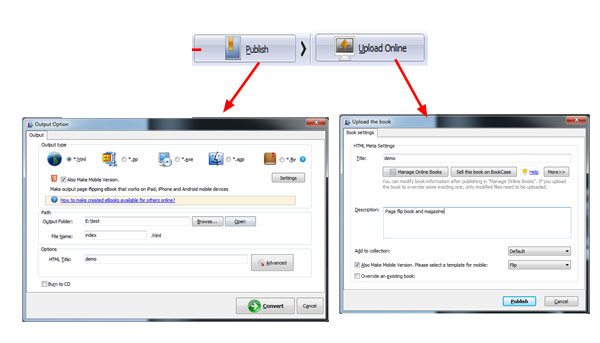 Related products
We always like improving our products based on your suggestions. Please send your feedback (or ask questions) to us in the contact page.