Guidance for create mobile version flipbook by Flip Book Maker.
Question
I want to create a flipbook which can be viewed on mobile device, such as iPhone, iPad, Android device. Dose A-PDF to Flipbook create flipbook are support mobile device?
Solution
Yes, you can use A-PDF to Flipbook to create mobile device supported flipbook for view on iPhone, iPad, kindle, and Android device.

Some tips for create mobile version flipbook:

Step 1: Download A-PDF to Flipbook Software on our website and install it in your computer;

Step2: Click button "Creator New" to build a new flipbook project, choice a template for you flipbook, and then import PDF for conversion;

Step3: Click "Publish" button after you finish design settings, and then select "Mobile Version" option when your choose HTML, ZIP format.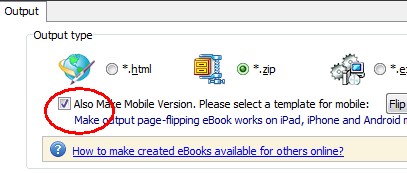 Lean more, please view follow Tutorials:
Related products
We always like improving our products based on your suggestions. Please send your feedback (or ask questions) to us in the contact page.