Guide for enable search in flipbook with Flash Page Flip Maker.
Question
I want to create a flipbook with larger content, so, I wish there have a search function in flipbook that readers can free to reading it. How could I enable the search feature in flipbook?
Solution
To let your created flipbook be searchable, you may use A-PDF to Flipbook.
Steps for enable search in your flipbook:

Step1: Run A-PDF to Flipbook, start a new flipbook project;

Step2: Choose template from template list for your flipbook;

Step3: Import PDF for conversion, and select "Enable Search" option;

Step4: Find out Search bar under Design Setting panel (Design Setting -> Tool Bar Settings ->Search), and then set search setting (Search Button -> Show, Choice color for Search Highlight Color, etc);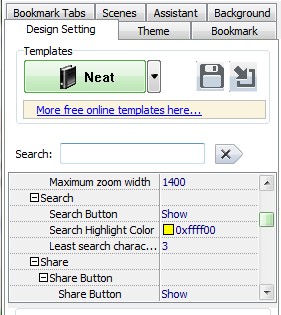 Step5: Click "Apply Change" button to refresh your flipbook.
Related products
We always like improving our products based on your suggestions. Please send your feedback (or ask questions) to us in the contact page.