How to Alter an Html Outputting Flipbook to a Zip Format
Question
For users of flipping book maker,they always output the flip page books with a Html format, in order to upload the flipping book to their own web pages. But the flipping book can not only be viewed online with an address of web page, the flipping book can also be transmitted by Email. At this time, if you email others with four files of folders and Html document, it would be a mess, so you may need to change the Html outputting flipbook into Zip format. For this change, you may have two options.
Solution
Option 1:
(1). When you are making a flipping book by A-PDF FlipBook Maker, you can save a Project file in your PC;
(2). Reopen the FlipBook maker software, and Press "Files" button on the Frame of the software to choose "Open Project" option, and find the position of the project file and import;
(3). Press "Publish to Local" after signed in, and choose ZIP.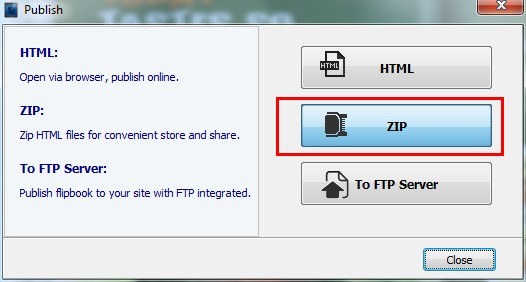 Then you will get a same ZIP format flipping book as the former HTML outputting flipbook.
Option 2:
 1. Choose all HTML outputting flipbook files;
 2. Right Click to choose add to RAR files to make flipping book as a zip format.
Related products
We always like improving our products based on your suggestions. Please send your feedback (or ask questions) to us in the contact page.