How to Customize Navigation Bar of Flip Page ebook?
Question
Usually we like reading flip page ebook by flipping pages, but if you have a thick book, flipping pages may be a waste of your time! Then you may need a tool of navigator in flipbook, how to set it?
Solution
Import your files into A-PDF FlipBook Maker, even it is a PDF file with no bookmark in it, you can still get a specialized navigator of thumbnail in flipbook.
Steps in the following instruction will help you to set navigation bar
1. You can choose a template to change the appearance of the navigation of thumbnail button;

2. Show share button in config setting of Toolbar settings;
3. Choose color for the background of thumbnail;
4. Set the thumbnail background alpha;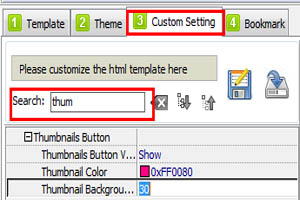 5. Apply change to get the flipbook with customized thumbnail for navigation.
Related products
We always like improving our products based on your suggestions. Please send your feedback (or ask questions) to us in the contact page.