How to directly add link to flipbook booklet?
Question
Sometimes we need to express a lot of things that cannot be fully expressed in the limited PDF pages. Add link (website link, email contact link, product link) to your PDF is the simple and easy way to full completely what you want to say. For some PDF without link, people can directly add link to PDF to flipbook with A-PDF to Flipbook Pro.
Solution
The below steps will show you how to create interactive link to directly open a specific page on your flipbook catalogue. Step1: Launch
A-PDF to Flipbook Pro
software to import and design, there are many pre-designed templates and themes for you to choose; Step2: Click "Edit Pages" button on the top menu, enter into page editor panel;

Step3: Add link to text or image . click "Add Link" option and draw frame on the image or text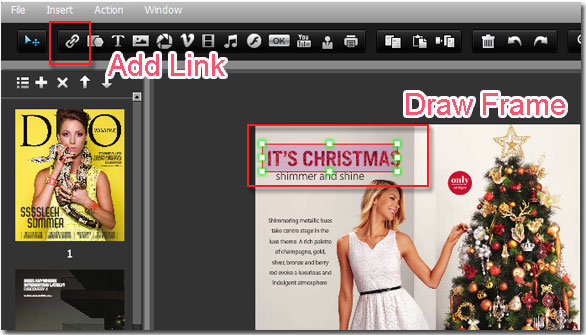 . click "Action Options" to choose "Open a link" option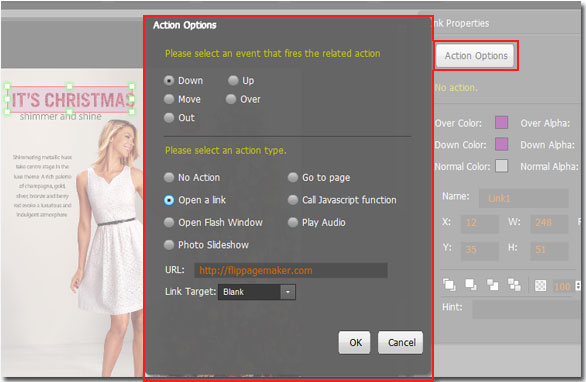 . Entry your website/email/product URL to the blank, press on "OK" Step4: Save and exit to template interface.
Related products
A-PDF Size Splitter - Split any Acrobat PDF file or group of files into smaller-sized pdf files
A-PDF Text Replace - batch replace, change or delete multiples text in Acrobat PDF files automatically
A-PDF Label - Batch add formatted dynamic Label fields (mailing label) such as Name, Address, City to custom PDF templates (such as in form letters, on envelopes, business card, name badge and so on) for printing, The Label fields lists information come from a spreadsheet in MS Excel file
We always like improving our products based on your suggestions. Please send your feedback (or ask questions) to us in the contact page.