How to publish HTML5 flip book for iPhone?
Question
As iPhone has become popular among us, I think it's very necessary to make the flip book work on iPhone or other mobile devices. Could you show me how to publish flip books for iPhone?
Solution
You can use A-PDF Flipbook Maker to publish HTML5 based flip book for mobile devices such as iPhone, iPad and Android. Beyond your imagination, this page flip software can help you transform PDF files to not only flash flip books for PC and Mac, but also HTML5 based versions for mobile devices at the same time. People can read your book on their iPhones, iPads, Android phones and tablets via browsers with ease.
Step 1: Import PDF for customizing based on template
Launch A-PDF Flipbook Maker and import a PDF file from your computer. And in the main interface, customize the flipbook with various settings and featured functions.
Step 2: Make HTML5 based mobile version
Click "Publish" button and choose "HTML" format, and enable "Also Make Mobile Version" option below.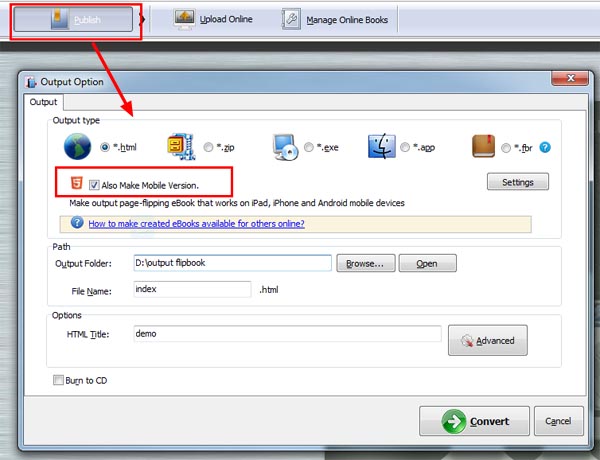 Step 3: Upload flipbook online
To enable your readers to read your book on iPhone and other mobile devices, you will need to upload it online first. After you publish both flash and HTML5 versions, upload all the output files to your server.
Optionally, you can upload the flipbook to our server by using Online Service, and you can also make an HTML5 based mobile version for iPhone as well.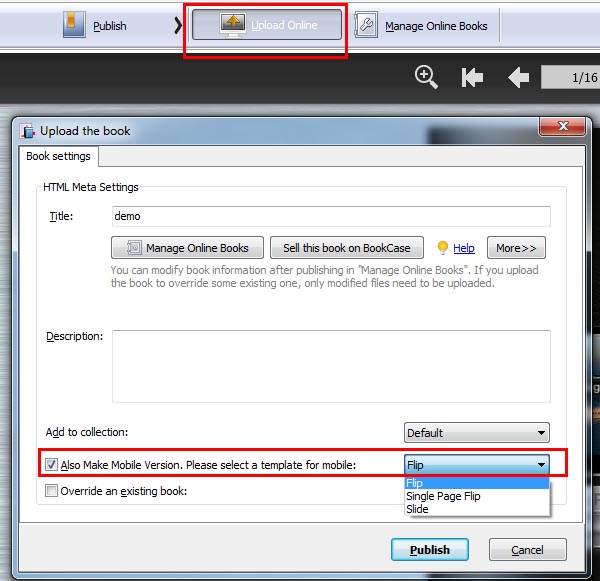 Related products
We always like improving our products based on your suggestions. Please send your feedback (or ask questions) to us in the contact page.