Issue online PDF, magazine & catalog maker
Question
Do you have any software to help me issue online PDFs, online magazines and catalogs?
Solution
You can use A-PDF Flip Book Maker to turn PDFs to interactive digital magazines or catalogs first, and after that, you can upload these digital publications online. And you have two options to issue online PDFs, magazines and catalogs: publish to your website and publish to our Cloud Hosting. Now you can refer to the following instructions:
Step 1: Prepare PDF to import
Get your PDF file ready and after you launch A-PDF Flip Book Maker, click "Create New" to start a new book project and then import your PDF.
Step 2: DIY PDF magazine & catalog
After you import the PDF, you can then design the magazine and catalog. First, you can choose a template and a theme, then a background or an animate scene; you can add an image as the logo; you can enable or disable the feature buttons such as Print, Download and Social Share.
Step 3: Issue magazine & catalog online
You can click "Publish" and output the magazine in HTML first, and then you can upload the output files to your server via FTP tools. Or, you can click "Upload Online" to issue online magazine to our Cloud Hosting.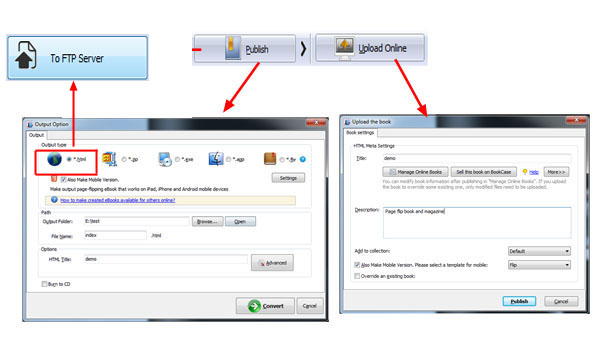 Related products
We always like improving our products based on your suggestions. Please send your feedback (or ask questions) to us in the contact page.