How can I stamp text or image watermark to digital magazine while using A-PDF to Flash?
Question
I create a page flip flash book by using A-PDF to Flash. And now I would like to stamp a watermark on my flash book before I publish it and upload it online. Could you please show me the simple method to insert watermark?
Solution
Since the rapid development of society and economic, people start to think highly of copyright issue. Then as we know that inserting watermark into your digital publication is one of the easy and convenient methods to mark your authority and copyright. With A-PDF to Flash, not only can you convert PDF to page flip flash book with ease, but also can stamp text and images watermark to digital magazine simply. What's more, you can publish the digital publication online and offline for sharing and storing conveniently. Now follow the steps to start stamping text or images watermark to digital magazine with A-PDF to Flash.
Step1: Create New Project and Add PDF
Run A-PDF to Flash and then click "Create New" to create new project and then continue to import PDF file or images files.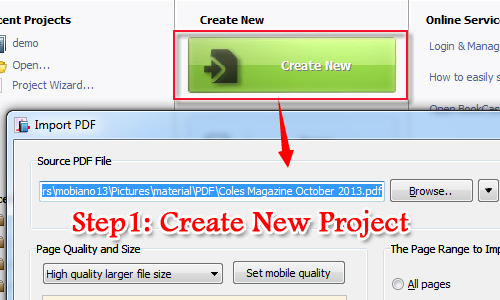 Step2: Customize Watermark Settings
Then move to advanced settings and click "Set watermark" to customize watermark settings. And then click add icon to add new text or images watermark with ease. Furthermore, you are able to customize the name, font, color, range, link and position and so on.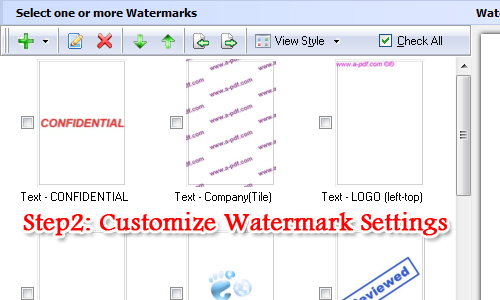 Step3: Continue to Enrich Flash FlipBook
After that you can continue to enrich the flash flip book with beautiful templates and powerful functions settings. Anyway, once you publish the flash book with A-PDF to flash, you will check the watermark on the flash book clearly.
Related products
We always like improving our products based on your suggestions. Please send your feedback (or ask questions) to us in the contact page.