How to add a plugin to enhance your digital magazine by using A-PDF FlipBook Maker?
Question
Your page flip software A-PDF Flipbook Maker is really awesome. The page flip digital magazines I published look wonderful and they work perfectly on different screens. I wonder if I can enrich the magazine by adding a plugin like news rotator or news ticker. If possible, can you show me how to do this? Thanks in advance!
Solution
A-PDF Flipbook Maker is an amazing page flip digital publisher. This software enables you to convert static PDF files into stunning page flipping publications. In addition, with this software, you are able to add a plug-in to the digital magazine to make it more striking or for advertising purpose. You can add different types of plug-in: banner, news rotator, MP3 player, news ticker, photo slider, scroller, YouTube banner and so on. Below I will show you how to add a plug-in step by step using A-PDF Flipbook Maker.
Step 1: Import PDF
After you launch A-PDF Flipbook Maker, click "Create New" and then "Browse…" to select a PDF file from local files, and click "Import Now".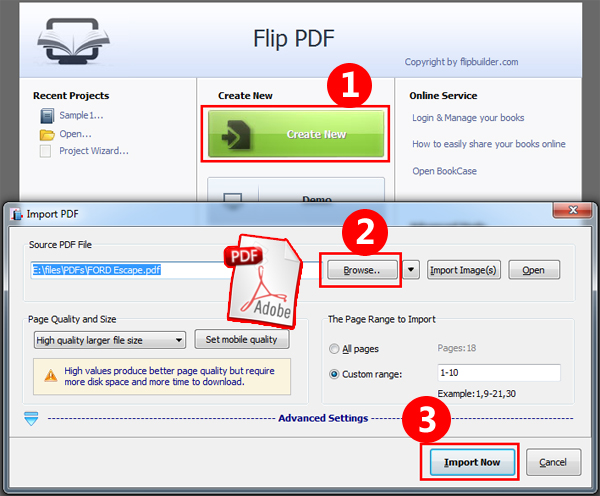 Step 2: Show Plugin Option
In the Design interface, by default, the "Plugins" option is hidden. You can click "View" at the upper left and select "Plugin" to make it show in the Design Bar.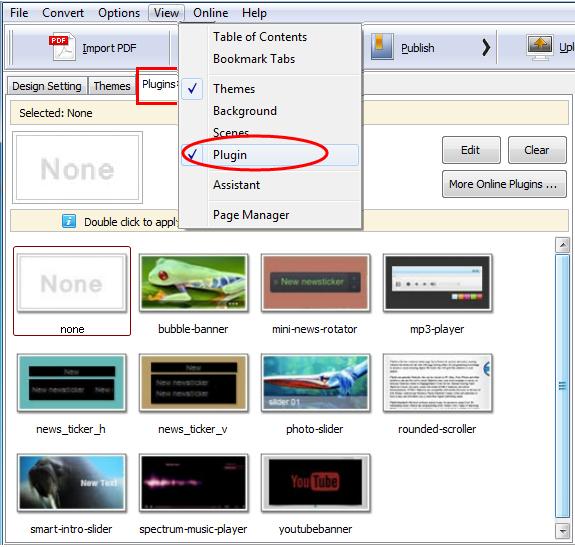 Step 3: Add Plug-in
And under the "Plugins" window, select a plug-in and double click on it to add it to the page flip publication. You can then edit the plugin. Please note that different plug-in has different custom settings. And after you finish editing the plug-in, click "Apply" to get it work.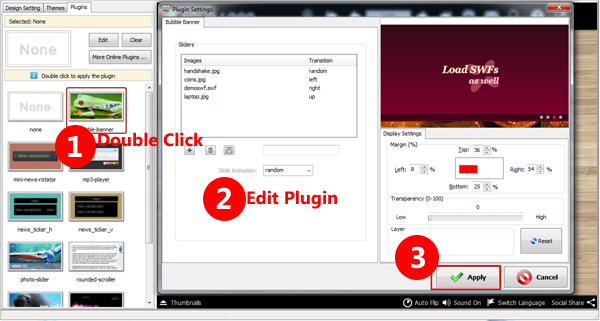 At last, click "Publish" to publish the digital magazine.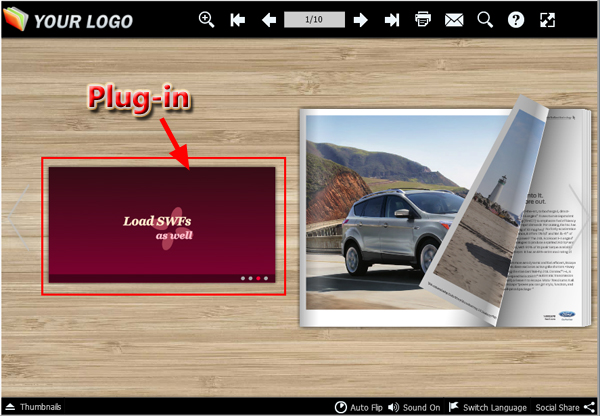 Related products
We always like improving our products based on your suggestions. Please send your feedback (or ask questions) to us in the contact page.